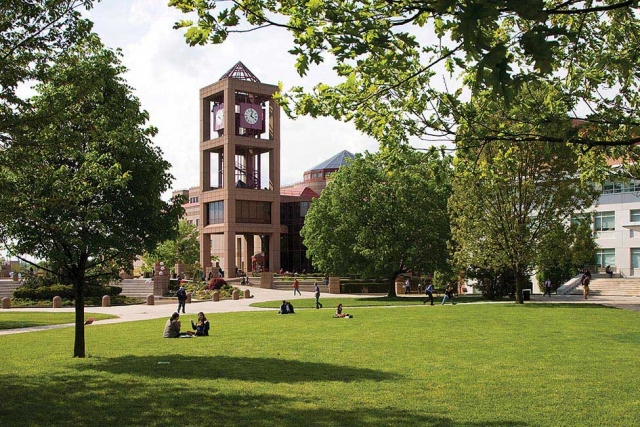 Supports BuildSmart2025 Goal to Drastically Reduce Energy Consumption in State Facilities  
Video of the Energy Efficiency Efforts on CUNY Campuses
Governor Andrew M. Cuomo today announced more than $455 million in energy efficiency upgrades across the City University of New York system. The energy-saving measures developed by the New York Power Authority and the Dormitory Authority of the State of New York will reduce greenhouse gas emissions and operating costs while advancing the goals of the Climate Leadership and Community Protection Act, the most aggressive climate change law in the nation, through the increased use of energy efficiency to annually reduce electricity demand by three percent — equivalent to 1.8 million New York households — by 2025.

"New York continues to implement statewide energy and environment programs that position us as a leading force against the challenges presented by global climate change, and the multitude of energy efficiency projects implemented at campuses throughout our CUNY system will strengthen our efforts to transition to a new, greener economy," Governor Cuomo said. "The more efficiently our facilities are constructed and rehabilitated, the more we reduce our carbon footprint so that we can leave a brighter, more resilient and reliable future for our next generation of leaders."

NYPA is currently financing and implementing approximately $230 million in energy efficiency projects on CUNY campuses and DASNY is delivering more than $226 million in energy efficiency projects as part of its partnership with CUNY. The upgrades span 18 campuses and range from the replacement of outdated heating and cooling equipment to the installation of energy-efficient LED lighting.
The energy efficiency improvements directly support BuildSmart2025, a statewide energy efficiency program administered by NYPA, aimed at drastically reducing energy usage in state facilities and the Sustainable CUNY Conserves program, a university-wide effort to reduce energy consumption across CUNY's 29 million square feet in more than 300 buildings, spend less money on electricity, and use the savings to support other campus initiatives.
CUNY Chancellor Félix V. Matos Rodríguez said, "These energy-saving measures by NYPA and DASNY at 18 of our campuses will reduce CUNY's carbon footprint and establish the University as a model of energy efficiency. We thank Governor Andrew Cuomo for ensuring that New York and its public facilities are aggressively meeting the challenges presented by the global threat of climate change."
NYPA President and CEO Gil C. Quiniones said, "Through the bold direction laid out in the Climate Leadership and Community Protection Act, the Power Authority is acting swiftly to drastically reduce energy use in state buildings. CUNY, as one of the Power Authority's largest customers, has demonstrated a longstanding dedication to improving its energy efficiency infrastructure and lowering its carbon footprint."

DASNY President & CEO Reuben R. McDaniel, III said, "DASNY is proud to partner with NYPA to help reduce environmental impact across CUNY's campuses. In doing so, we are supporting New York State's vision of a cleaner, greener future, and reinvesting these savings in the bright young minds who rely on our leadership."
The energy-saving projects are being performed at Baruch College, Bronx Community College, Brooklyn College, Borough of Manhattan Community College, City College of New York, College of Staten Island, CUNY Graduate Center, Hostos Community College, Hunter College, Kingsborough Community College, LaGuardia Community College, Lehman College, Medgar Evers College, New York City College of Technology, Queens College, Queensborough Community College, Craig Newmark Graduate School of Journalism at CUNY, and York College.
BuildSmart2025 calls for a reduction in site energy use in state buildings by 11 trillion British Thermal Units by the end of 2025, the equivalent of removing nearly 500,000 cars off the road. As of the end of 2020, state entities have implemented or are actively developing energy projects with calculated energy savings of more than 4 trillion BTUs with the expectation that they will reduce an additional 1 trillion BTUs by the end of 2021.
NYPA provides a wide variety of energy technology and renewable energy services to its governmental customers under BuildSmart2025, including energy audits, project engineering, design, installation, and construction management. The energy efficiency projects carried out by NYPA include high efficiency lighting retrofits, occupancy and daylighting lighting sensors, building and energy management systems, boilers, chillers, air-handling systems, thermal storage, microgrids, solar photovoltaic systems, digester gas systems, and emerging energy technologies. NYPA provides financing with full cost recovery by its customers.
Please visit NYPA on the web for more information on clean energy solutions.
New York State's Nation-Leading Climate Plan
Governor Cuomo's nation-leading climate agenda is the most aggressive climate and clean energy initiative in the nation, calling for an orderly and just transition to clean energy that creates jobs and continues fostering a green economy as New York State recovers from the COVID-19 pandemic. Enshrined into law through the Climate Leadership and Community Protection Act, New York is on a path to achieving its mandated goal of a zero-emission electricity sector by 2040, including 70 percent renewable energy generation by 2030, and to reach economy wide carbon neutrality. It builds on New York's unprecedented ramp-up of clean energy including over $4 billion invested in 91 large-scale renewable projects across the state, supporting more than 150,000 jobs in New York's clean energy sector in 2019, a commitment to develop 9,000 megawatts of offshore wind by 2035, and 1,800 percent growth in the distributed solar sector since 2011. Under Governor Cuomo's leadership, New York will build on this progress and reduce greenhouse gas emissions by 85 percent from 1990 levels by 2050, while ensuring that at least 35 percent with a goal of 40 percent of the benefits of clean energy investments to disadvantaged communities and advancing progress towards the state's 2025 energy efficiency target of reducing on-site energy consumption by 185 trillion BTUs of end-use energy savings.
About NYPA 
NYPA is the largest state public power organization in the nation, operating 16 generating facilities and more than 1,400 circuit-miles of transmission lines. More than 80 percent of the electricity NYPA produces is clean renewable hydropower. NYPA uses no tax money or state credit. It finances its operations through the sale of bonds and revenues earned in large part through sales of electricity. More information on NYPA can be found here. Follow us on Twitter, Facebook, Instagram, Tumblr and LinkedIn. 
About DASNY
Founded in 1944, DASNY is New York State's capital project development authority. It finances and constructs sustainable and resilient science, health and education institutions that help New York thrive. It is one of the largest issuers of tax-exempt bonds in the nation with an outstanding bond portfolio of approximately $59 billion as of March 31, 2021. DASNY is also a prolific public builder with a construction pipeline of more than 1,000 projects valued at approximately $7.7 billion as of March 31, 2021. More information on DASNY can be found here.