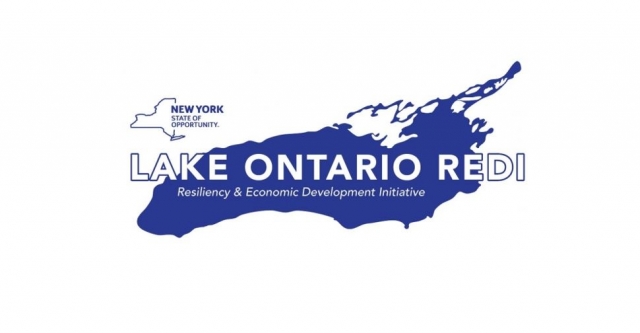 $2 Million Lakeshore Drive Sewer Project Will Replace Aging Infrastructure Protecting Local Homes from Future Flood Damage  
$1.2 Million Floodwall Project at Long Pond Outlet Will Protect Park and Roadway, Ensuring Access for Emergency Vehicles
Projects Selected as Part of Governor's $300 Million Resiliency & Economic Development Initiative
Governor Andrew M. Cuomo today announced construction has begun on two of the 11 projects awarded to the Town of Greece in Monroe County through the Resiliency and Economic Development Initiative. Currently, many homes on Lakeshore Drive are subject to flooding because they do not have adequate protection against high water conditions. During flood events, stormwater ponds on the roadway and floods basements. The $2 million REDI grant-funded Lakeshore Drive project will replace and improve the existing stormwater conveyance infrastructure and help to mitigate the effects of stormwater intrusion.  
"Properties along the Lake Ontario shoreline were devastated during the historic flooding that occurred in 2019, and New York State recognized the need for added resiliency throughout the region," Governor Cuomo said. "Through the REDI program, we're acting swiftly and decisively to mitigate future flooding effects on public infrastructure as well as to protect New Yorkers' homes. The groundbreaking of these resiliency projects in partnership with local governments will help us fortify the Town of Greece for future flood events."
"Communities along Lake Ontario have faced devastating flooding in recent years due to climate change and New York is leading the way to help these communities build back more resilient for the future," said Lieutenant Governor Kathy Hochul. "Our top priority is protecting the people who live in these communities, and these two resiliency projects in the Town of Greece will help mitigate flooding, protect homes, enhance safety and create a sustainable infrastructure."
Resiliency and revitalization measures for the Lakeshore Drive project breaking ground today include:
Replacing the existing stormwater system with larger diameter piping;

Construction of new storm sewer outlets with control valves;

Larger catch basins and bypass pipes allowing more effective pumping operations during high water;

Installation of new storm clean outs for each property, allowing residents to tie into an appropriately designed storm sewer; and

Replacement and elevation of controls for the Lakeshore Drive Pump Station to improve resiliency.
In addition, Governor Cuomo announced construction is underway on a $1.2 million flood-protection project at Channel Park. This project will mitigate flooding issues in and along Long Pond Outlet and Channel Park, located between Long Pond and Lake Ontario. Recurring inundation due to high lake levels pose an ongoing threat to infrastructure in the vicinity of Long Pond Outlet, making these areas inaccessible to residents and emergency personnel, as well as causing deterioration to nearby Edgemere Drive. During high water events, Channel Park, a neighborhood space serving approximately 300 homes, becomes submerged. The flooding negatively impacts the park and playground equipment and leaves the Lake Shore Fire District boat launch unusable, compromising emergency response capabilities.
Resiliency and revitalization measures for the Channel Park project include:
Installation of a masonry floodwall to 251 feet elevation, to hold back flood waters and function as a park amenity;

Relocation and installation of new playground equipment above flood level to protect it from water damage and ensure use continuity even during high water events;

Improvements to storm drainage system, including a control valve and bypass pipe for more effective flood control; and

Relocation of parking lot for improved road access and more safe and efficient distribution of sand bags during future flood events.
Department of Environmental Conservation Commissioner and REDI Commission Co-Chair Basil Seggos said, "New York's REDI program continues to advance strategic flood protection and resiliency projects across Lake Ontario shoreline communities historically hit by high water and extreme weather events. Working closely with town of Greece and Monroe County officials to identify and implement key infrastructure improvement projects like the Long Pond Outlet floodwall, REDI is investing in projects that will fortify flood protections by rebuilding smarter and stronger."
New York State Secretary of State Rossana Rosado said, "New York State is committed to improve resilience to extreme weather events and protect the health and safety of its residents and visitors. Thanks to Governor Cuomo's leadership, we are helping Lake Ontario communities revitalize their waterfronts and strengthen resiliency against future flooding. These projects at Lake Shore Drive and Channel Park in the Town of Greece will go a long way toward improving the public stormwater infrastructure."
New York State Department of Labor Commissioner Roberta Reardon said, "Both of these REDI initiatives are a lifeline for our shoreline communities and will not only safeguard the Town of Greece, but also transform it in a very substantial way. By working together, our state, counties, and municipalities are stepping up to protect our waterfront communities and the economic health of these regions."
Environmental Facilities Corporation President and CEO Joseph Rabito said, "Replacing over-burdened stormwater systems on Lake Ontario is one of many important pieces of the REDI initiative that will increase the resilience of shoreline communities across New York State.  EFC is committed to administering more than $60 million in grants for projects like the one on Lakeshore Drive in support of this important program."
Dormitory Authority of New York State President and CEO Reuben McDaniel III said, "REDI projects like those in Greece embody Governor Cuomo's goal of bringing the state's resources together to solve the flooding and water table issues facing so many localities across New York. DASNY is proud to work alongside so many state and local officials to protect the infrastructure and economic vitality of New York's waterfront communities."
Empire State Development Acting Commissioner and President & CEO-designate Eric Gertler said, "These targeted infrastructure projects reflect another important step in safeguarding the flood-damaged lakefront communities along Lake Ontario in Monroe County. The critical efforts of the multi-agency REDI initiative are working to tackle the devastation from extraordinary weather events, strengthening our economy and enhancing the overall quality of life for residents."
Assemblyman Josh Jensen said, "The groundbreaking at the site of the Long Pond Outlet (Channel Park) signals the state's commitment to assist our shoreline communities susceptible to flooding during high water periods. Not only will this mitigation project protect homeowners, it will also aid local fire agencies with accessing a boat launch that is crucial for emergency response to the nearby waterways."
Monroe County Executive Adam Bello said, "Channel Park is a staple for many of our lakeshore property owners in Greece and serves as a boat launch point for the Lake Shore Fire District. Actions to ensure that the boat launch and park are protected will allow the Fire District to continue to operate efficiently when they are needed the most and allow residents to enjoy their neighborhood park. As always, I am grateful for the proactive measures taken by REDI to protect our lakeshore residents in Monroe County."
Town of Greece Supervisor William Reilich said, "The Lake Shore Drive sewer project is a huge step forward in the town's plan for a more resilient waterfront.  The design makes use of the same system of shut-off valves and pumping installations that were recently installed on Braddock Road, and which the town successfully used to keep the east end of Edgemere Drive dry in 2019. Each home on Lake Shore Drive will be provided with access to the new storm sewer at the street and we'll be conducting a follow-up program to eliminate any illegal drainage (sump pump) discharges to the sanitary sewer.  Plumbing permits needed to make these connections will be expedited and we are waiving the fee for a period of one year following the project's completion.  By working closely with our state partners and Lake Shore Drive residents, we've successfully commenced work on yet another REDI project that directly improves the lives of Greece residents. The flooding of 2017 and 2019 highlighted the vulnerability of all kinds of infrastructure, including our beautiful waterfront parks.  The improvements at Channel Park will allow this neighborhood favorite to stay open during high water years and the new equipment and parking area will be safe from future flooding. The new flood wall will double as a park amenity, while keeping nearby public safety facilities safe from high water.  Our parks play a major role in our quality of life and when we can make the community more resilient and improve a park at the same time, I call that a win-win situation."
In response to the extended pattern of flooding along the shores of Lake Ontario and the St. Lawrence River, Governor Cuomo created REDI to increase the resilience of shoreline communities and bolster economic development in the region. Five REDI Regional Planning Committees, comprised of representatives from eight counties--Niagara and Orleans, Monroe, Wayne, Cayuga and Oswego, and Jefferson and St. Lawrence--were established to identify local priorities, at-risk infrastructure and other assets, and public safety concerns. The REDI Commission allocated $20 million for homeowner assistance, $30 million to improve the resiliency of businesses, and $15 million toward a regional dredging effort that will benefit each of the eight counties in the REDI regions. The remaining $235 million has been allocated towards local and regional projects that advance and exemplify the REDI mission.
At Governor Cuomo's direction, the REDI commission toured areas hard hit by flooding on Lake Ontario and worked with local communities to come up with a new vision for the shoreline from both a resiliency and economic development point of view in order to build back better and stronger for the future.
Since the creation of the Governor's REDI program in the Spring of 2019, 133 REDI funded local and regional projects are underway, including 102 projects in the design phase, 17 projects in the construction phase, and 14 projects completed.
For additional information, project profiles and REDI news, click here. 
###
Additional news available at www.governor.ny.gov
New York State | Executive Chamber |[email protected] | 518.474.8418