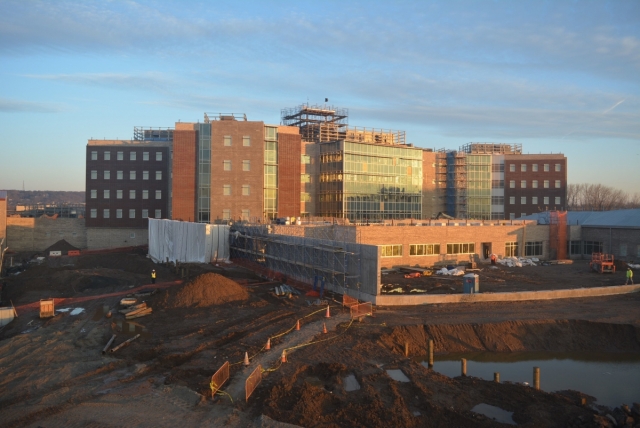 64 Projects for Universities, SUNY, CUNY, NYSDOH, OMH, OPWDD, Office of Parks and Rec, Others    
Albany, NY - Reuben R. McDaniel, III, President & CEO of the Dormitory Authority of the State of New York (DASNY) announced today $276 million in construction projects for higher education and health care institutions statewide were completed during the first nine months of 2021 by the DASNY.
 "DASNY is proud to partner with institutions across New York to strengthen our higher education and health care sector to best serve New Yorkers," said Reuben R. McDaniel, III, President and CEO of DASNY. "With unique expertise in all facets of development, DASNY delivers services that help state agencies to serve critical needs for all New Yorkers."    
From January through September, DASNY completed 64 projects of various sizes and complexities ranging from minor safety and maintenance upgrades to a multi-year project to replace the ceilings at every residence hall at The University at Albany (SUNY). Others include:  
Fahnestock State Park ($710,000) – NYS Department of Parks, Recreation, and Historic Preservation: 
The project upgraded the Highland Lodge building and the surrounding site at the Taconic Outdoor Education Center at Fahnestock State Park, enhancing the entryway and constructed a new independent Memorial Pavilion to honor the late Martin McGuire, the former Assistant to the Director of Natural Resources Protection for NY State Parks, Recreation, and Historic Sites. It also now provides an additional outdoor teaching venue for the center. 
New York State Veterans Home at Batavia ($7,000) – NYS Department of Health: 
DASNY managed permitting services here for the installation of a new gazebo. 
South Beach Psychiatric Center ($4.9 million) – New York Office of Mental Health:   
Elevators were reconditioned at the Psychiatric Center to improve safety. This follows a $250 million project to construct SBPC's new Inpatient Center following the devastation of Superstorm Sandy. The facility was also modified and used to provide medical care to COVID patients beginning in April of 2020. A little more than one year later, a total of 1,022 patients had been treated for COVID-19 in the new building. 
SUNY Plattsburgh Kent Hall ($15.8 million) - State University of New York (SUNY):   
This renovation transformed the hall into a more 'traditional' residence hall with suite-style living areas and included the renovation of all bathrooms of nearby Harrington Hall.