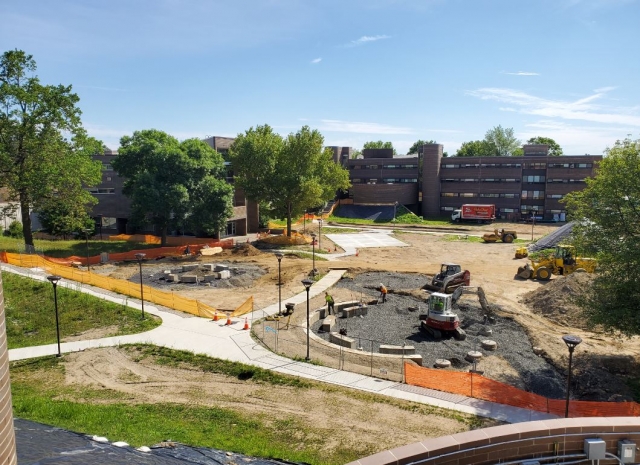 DASNY Completes Approximately $52.3 Million in Facility Renovations Across the State
Summer Construction Projects Completed at Purchase College, SUNY New Paltz
Albany, NY – Gerrard P. Bushell, Ph.D., President & CEO of the Dormitory Authority of the State of New York (DASNY), announced today approximately $17.2 million in upgrades have been completed at Purchase College and SUNY New Paltz. The work is part of approximately $52.3 million in upgrades, some of which are being completed over multiple phases, to State University of New York (SUNY) campuses throughout New York State completed by DASNY during the summer months – ready in time for students to begin the fall semester.
The projects were financed through DASNY's SUNY Dormitory Facilities Program, which issues low-cost, tax-exempt bonds supported by student residence hall fees.
"High quality work in an expedited timeframe is a hallmark of how DASNY does business," said Dr. Bushell. "These improvements, done expertly and efficiently during the summer months across SUNY's campuses, are providing new and returning students with more attractive living and learning facilities and making their college experience one they will never forget."
"Through our partnership with DASNY, our students are able to benefit from enhancements and updates that generate better living spaces and more efficient study environments," said SUNY Chancellor Kristina M. Johnson. "The work completed this summer also supports SUNY's energy efficiency and sustainability goals, and ultimately, is driven by the desire to support the health and wellness for all who reside on a SUNY campus."
This summer at Purchase College, nearly $15.5 million included the renovation of 74 bedrooms in the A/B wing of the Big Haus residence hall, and 67 bedrooms, seven suite bathrooms, and remodeled Americans with Disabilities Act (ADA) compliant bathroom on the entry level in the Crossroads residence hall. The bedrooms now have a fresh coat of paint, upgraded flooring, and new wardrobes. The bathrooms were remodeled and modernized. They now feature new contemporary finishes and vanities, and are equipped with water-efficient plumbing fixtures to reduce indoor water usage. In addition, the corridors also received new, upgraded flooring and paint. Energy-efficient LED lighting also has been installed throughout the corridors, bathrooms, and bedroom areas.
In the Outback residence hall, 44 bathrooms were modernized, including the installation of new vanities, energy-efficient LED lighting, and new ceramic wall tiles and paint, in soft shades, creating a soothing environment for students. 
Several projects got underway at The Olde apartment complex as well, including the installation of an electric water heater for the summer months and two instantaneous tankless water heaters that heat the water only when there is a demand, affording the comfort of hot water without having to store it, saving energy. In addition, a new roof was installed on the service building, which houses student laundry and storage as well as a maintenance shop. Breaker panels in all The Olde apartments were replaced to comply with new electrical code requirements. 
As part of a multi-year project to increase safety in The Commons, a new sprinkler system was installed in the "P" Building of The Commons apartments. Buildings "M" and "S" will be completed next year. Breaker panels throughout The Commons were also replaced.
Likewise, exterior stairways, ramps, sidewalks, and pathways within the Building 45 Quad area have been renovated and widened, increasing accessibility for individuals with disabilities. For added safety, new, improved pathway lighting and a blue-light emergency phone have been installed. Exterior work also includes new landscaping and a hardscape area with a new pergola, designed for small performances. Students also can enjoy an outdoor meditation area, rain gardens, and new seating areas equipped with charging stations that enable students to plug in their electronic devices.
At SUNY New Paltz, more than $1.7 million went to projects including the first phase of bathroom renovations at Bouton Hall. The bathrooms were transformed, embracing privacy, and now have a more residential-style look and feel. Students will notice new fixtures, tile flooring, and vanities. New boilers were installed as well, including a natural gas boiler to be used during the summer months. In addition, sprinkler heads were replaced at Esopus Hall, and several windows in Ridgeview Hall were replaced. In Ashokan Hall, formerly Crispell Hall, window framing in the interior of the main lounge was replaced.
"Purchase College is pleased by the progress completed over the summer," said Purchase College Interim President Dennis Craig. "From maintenance work to accessibility updates, to new spaces for student engagement, better living conditions benefit the student experience and lead to increased student success."
"Students who live on campus share often that their residential experience helps define their time here," said SUNY New Paltz President Donald P. Christian. "These critical infrastructure upgrades across several residence halls continue our progress on improving the College's physical environment to serve current and future students with the high-quality programs and opportunities they deserve. I appreciate the partnership and good work of our Facilities Management team and DASNY to accomplish these objectives."
View Project Photos: