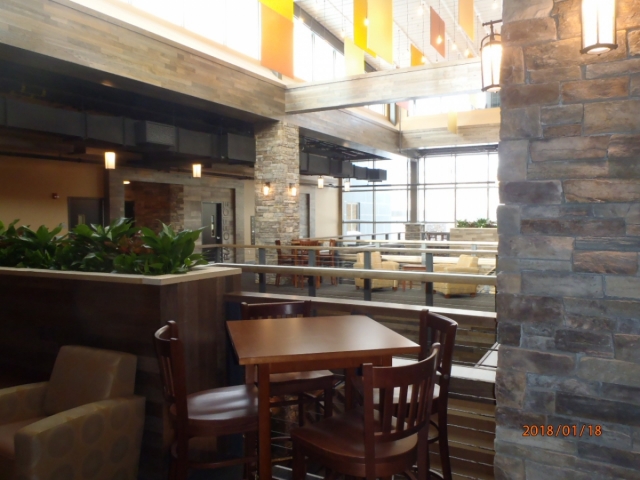 ALBANY, N.Y. -- Gerrard P. Bushell, Ph.D., President & CEO of the Dormitory Authority of the State of New York (DASNY), announced today the start of the $18 million Second Phase renovation of Alfred State, the SUNY College of Technology's MacKenzie Complex. 
This project is part of more than $73 million in capital renovation projects DASNY is beginning on SUNY campuses statewide. The renovation was financed through DASNY's SUNY Dormitory Facilities Program, which issues low-cost, tax-exempt bonds supported by student residence hall fees. Construction is expected to be completed in July 2019.
"New York State's higher education institutions are boosting innovation and driving economic development in the region," said Dr. Bushell. "DASNY is proud to work with SUNY to ensure its campuses have best-in-class, energy efficient facilities that will provide students the environment they need to achieve success."
The Phase Two Renovation Project will include the renovation of the MacKenzie South and East wings. The project will be constructed to LEED-Silver standards under the sustainability and energy efficiency guidelines of the U.S. Green Building Council.
Some of the LEED elements include installing a tankless water heating system, which provides an endless supply of hot water while saving space and reducing energy costs, a new high-efficient heating system, energy-saving LED lighting in the hallways and student rooms, equipping bathrooms with water-efficient plumbing fixtures to reduce indoor water usage, and an upgraded ventilation system that uses energy recovery technology.
As of March 31, 2018, 42 DASNY projects have received a rating of LEED Certified or better, helping to reach Governor Andrew M. Cuomo's statewide energy goals to build a clean energy future for all of New York State.
In addition, all power, lighting, and alarm systems will be renovated. Mechanical and plumbing systems will be reconstructed and a fire protection system will be installed throughout the entire building. Student rooms will receive new paint and upgraded carpet throughout the interior.
Exterior renovations will include roof and window replacement and the construction of new entrance foyers. New sidewalks and landscaping will be completed for both buildings, encouraging student wellness and outside activities.  
"With 40 percent of state buildings under our ownership, SUNY has a significant footprint in New York State, and therefore a sizeable opportunity to build on energy sustainability," said SUNY Chancellor Kristina M. Johnson. "We are thankful for DASNY's partnership to retrofit our facilities to be more energy efficient, while at the same time providing a safe and healthy environment for our students."
"Alfred State College is excited that Phase Two of the MacKenzie Makeover project is now underway," said Alfred State President Dr. Skip Sullivan. "We applaud DASNY for helping us to significantly improve the energy efficiency and the aesthetics of MacKenzie, as we strive to make this facility the residence hall of choice for our students."
The MacKenzie Complex, which houses approximately 1,100 students is comprised of four wings and a central quad. It is the largest residence hall on campus. The MacKenzie Hall projects will be renovated in three phases, with each phase addressing approximately 24,000 square-feet of the building.
As part of the Phase One renovation, an existing two-story dining hall on the accompanying quad was renovated to create food service, student laundry, a fitness room, and seating areas. Additional work included replacement of windows as well as heating, plumbing, power, and data systems. A new fire protection system was added for student safety. The Phase One renovation incorporated various energy-efficient upgrades, including LED lighting, premium efficiency motors and variable speed drives on all pumps, high efficiency boilers and water heaters, low-flow plumbing fixtures and enhanced ventilation in student rooms.
View photos of Phase One of the MacKenzie Complex project.
###
Founded in 1944, DASNY – the Dormitory Authority of the State of New York – is New York State's capital project development authority. It finances and constructs sustainable and resilient science, health and education institutions that help New York thrive. It is one of the largest issuers of tax-exempt bonds in the nation with an outstanding bond portfolio of approximately $50.5 billion as of March 31, 2018. DASNY is also a major public builder with a construction pipeline of 932 projects valued at more than $6.2 billion as of March 31, 2018.