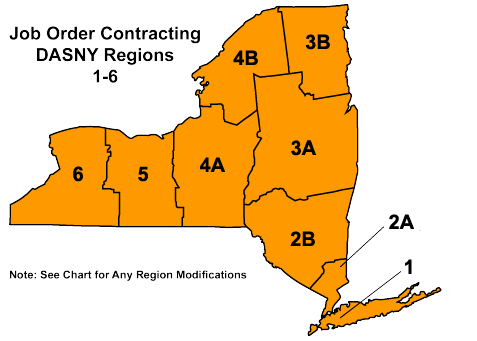 Current List of Job Order Contractors by Region and Trade
Approximately twice a year, DASNY goes out to bid and awards Job Order Contracting (JOC) contracts in six regions statewide. The five construction disciplines in all regions that we solicit services for are: General Construction, HVAC, Electrical, Plumbing, and Asbestos Abatement. In select regions, we also solicit for Roofing and Sprinkler Services. 
Processing data... please wait.
| Region Number | Trade | Contract # | Contractor | Award Date | Exp Date | Maximum Contract Value |
| --- | --- | --- | --- | --- | --- | --- |
| 1 | Z | 195540 | AGA Environmental, Inc | 1/10/2017 | 1/9/2018 | $1,500,000.00 |
| 1 | Z | 175724 | AGA Environmental, Inc | 4/23/2013 | 10/22/2016 | $1,500,000.00 |
| 1 | Z | 195719 | NYES | 1/10/2017 | 1/9/2018 | $1,500,000.00 |
| 1 | Z | 175598 | NYES | 4/26/2013 | 4/25/2017 | $1,500,000.00 |
| 1 | GC | 194082 | AWL Industries | 7/28/2016 | 7/27/2017 | $2,500,000.00 |
| 1 | GC | 195055 | DIA General Construction | 10/21/2016 | 10/20/2019 | $6,000,000.00 |
| 1 | GC | 196530 | DIA General Construction | 2/10/2017 | 2/9/2018 | $6,000,000.00 |
| 1 | GC | 180297 | Volmar Construction, Inc. | 2/4/2016 | 2/3/2017 | $3,000,000.00 |
| 1 | GC | 196242 | Volmar Construction, Inc. | 1/6/2017 | 1/5/2019 | $6,000,000.00 |
| 1 | GC | 186028 | Venus | 2/24/2017 | 2/23/2018 | $3,000,000.00 |
| 1 | GC | 195969 | ProCon Group, Inc | 12/30/2016 | 12/29/2018 | $6,000,000.00 |
| 1 | GC | 178629 | ProCon Group, Inc | 10/24/2013 | 4/3/2017 | $3,000,000.00 |
| 1 | GC | 195768 | Rashel Construction Corp | 12/20/2016 | 12/20/2018 | $5,000,000.00 |
| 1 | GC | 179553 | Jemco Electrical Contractors, Inc. | 12/13/2013 | 12/12/2017 | $3,000,000.00 |
| 1 | PL | 179743 | PAR Plumbing Co., Inc. | 1/2/2014 | 1/20/2018 | $2,000,000.00 |
| 1 | EL | 175893 | Charan Electrical Enterprises, Inc. | 5/13/2013 | 12/1/2017 | $2,000,000.00 |
| 1 | EL | 193936 | Palace Electrical Contractor, Inc. | 7/18/2016 | 7/17/2017 | $2,000,000.00 |
| 1 | EL | 194083 | Laser Electrical Contracting, Inc. | 7/26/2016 | 7/25/2017 | $2,000,000.00 |
| 1 | EL | 191538 | Mac Fhionnghaile Electrical Contracting, Inc. | 3/2/2017 | 3/1/2018 | $6,600,000.00 |
| 1 | EL | 191539 | Mac Fhionnghaile Electrical Contracting, Inc. | 3/2/2017 | 3/1/2018 | $6,600,000.00 |
| 1 | EL | 191708 | Walsh Electrical Contracting, Inc. | 3/10/2016 | 3/9/2017 | $6,600,000.00 |
| 1 | EL | 191709 | Walsh Electrical Contracting, Inc. | 3/10/2016 | 3/9/2017 | $6,600,000.00 |
| 1 | EL | 191718 | Charan Electrical Enterprises, Inc. | 3/11/2017 | 3/10/2018 | $6,600,000.00 |
| 1 | EL | 191719 | Charan Electrical Enterprises, Inc. | 3/11/2017 | 3/10/2018 | $6,600,000.00 |
| 1 | HV | 178109 | Sierra Mechanical Contracting, Inc. | 9/16/2013 | 3/15/2017 | $2,500,000.00 |
| 1 | HV | 194095 | Sierra Mechanical Contracting, Inc. | 7/27/2016 | 7/26//2017 | $2,500,000.00 |
| 1 | HV | 196568 | Pen Enterprises, Inc. | 2/14/2017 | 2/13/2019 | $5,000,000.00 |
| 1 | HV | 178125 | Pen Enterprises, Inc. | 9/18/2013 | 3/17/2017 | $2,500,000.00 |
| 1 | HV | 196437 | Geomatrix Services, Inc. | 1/31/2017 | 1/30/2017 | $5,000,000.00 |
| 1 | HV | 169241 | Volmar | 1/16/2017 | 1/15/2019 | $5,000,000.00 |
| 1 | HV | 169310 | Geomatrix Services, Inc. | 5/25/2016 | 5/24/2017 | $2,500,000.00 |
| 1 | RF | 195559 | Corbex | 11/30/2016 | 11/29/2017 | $500,000.00 |
| 2A | HV | 196440 | Geomatrix Services, Inc. | 1/31/2017 | 1/30/2018 | $1,000,000.00 |
| 2A | GC | 195056 | DIA General Construction | 10/26/2016 | 10/25/2017 | $2,500,000.00 |
| 2A | EL | 194230 | Stilsing Electric | 7/28/2016 | 7/27/2017 | $500,000.00 |
| 2B | PL | 195107 | DiGesare Mechanical Incorporated | 10/26/2016 | 10/25/2017 | $500,000.00 |
| 2B | HV | 195108 | DiGesare Mechanical Incorporated | 10/26/2016 | 10/25/2017 | $500,000.00 |
| 2B | EL | 194136 | Stilsing Electric | 7/28/2016 | 7/27/2017 | $500,000.00 |
| 2B | GC | 194459 | Volmar Construction, Inc. | 8/26/2016 | 8/25/2017 | $2,500,000.00 |
| 3 | PL | 176512 | DiGesare Mechanical Incorporated | 6/6/2016 | 12/30/2017 | $500,000.00 |
| 3 | EL | 188836 | Stilsing Electric, Inc. | 10/22/2016 | 10/21/2017 | $500,000.00 |
| 3 | GC | 181038 | Northland Associates, Inc. | 3/27/2014 | 3/26/2017 | $2,500,000.00 |
| 3 | Z | 194462 | Abscope Environmental, Inc | 8/26/2016 | 8/25/2017 | $2,000,000.00 |
| 3 | P | 194571 | John W. Danforth Company | 9/8/2016 | 9/7/2017 | $2,000,000.00 |
| 3 | HV | 194569 | John W. Danforth Company | 9/8/2016 | 9/7/2017 | $2,000,000.00 |
| 4 | PL | 189515 | Wilkins Mechanical, Inc. | 10/6/2015 | 10/5/2017 | $500,000.00 |
| 4 | HV | 189549 | Lawman Heating & Cooling | 10/5/2016 | 10/4/2017 | $500,000.00 |
| 4 | EL | 189551 | Lawman Heating & Cooling | 10/5/2016 | 10/4/2017 | $500,000.00 |
| 4A | GC | 195664 | JDS Northland Associates | 12/6/2016 | 12/5/2017 | $2,500,000.00 |
| 4B | GC | 195670 | Mattoon Construction Services | 12/7/2016 | 12/6/2017 | $2,500,000.00 |
| 5 | HZ | 194463 | Abscope Environmental | 8/26/2016 | 8/25/2016 | $1,000,000.00 |
| 5 | EL | 189707 | Hewitt Young Electric, LLC | 10/16/2015 | 10/15/2017 | $500,000.00 |
| 5 | GC | 196519 | JDS Northland | 2/10/2017 | 2/9/2019 | $3,000,000.00 |
| 5 | GC | 182253 | Kircher Construction Co | 4/16/2014 | 4/15/2017 | $1,500,000.00 |
| 5 | PL | 192950 | Landry Mechanical Contractors | 5/20/2016 | 5/19/2017 | $500,000.00 |
| 6 | HV | 190491 | Innovative Mechanical Systems, Inc | 12/8/2015 | 12/7/2016 | $500,000.00 |
| 6 | E | 196273 | Industrial Power and Light Corp | 1/20/2017 | 1/19/2018 | $1,000,000.00 |
| 6 | E | 180732 | CIR Electrical Construction Corp. | 3/11/2014 | 3/10/2017 | $500,000.00 |
| 6 | GC | 194073 | Massa Construction | 7/26/2016 | 7/25/2017 | $1,000,000.00 |
| 6 | Z | 195130 | AAC Contracting | 10/26/2016 | 10/25/2017 | $500,000.00 |