Current Community Minor Maintenance Contractors by Region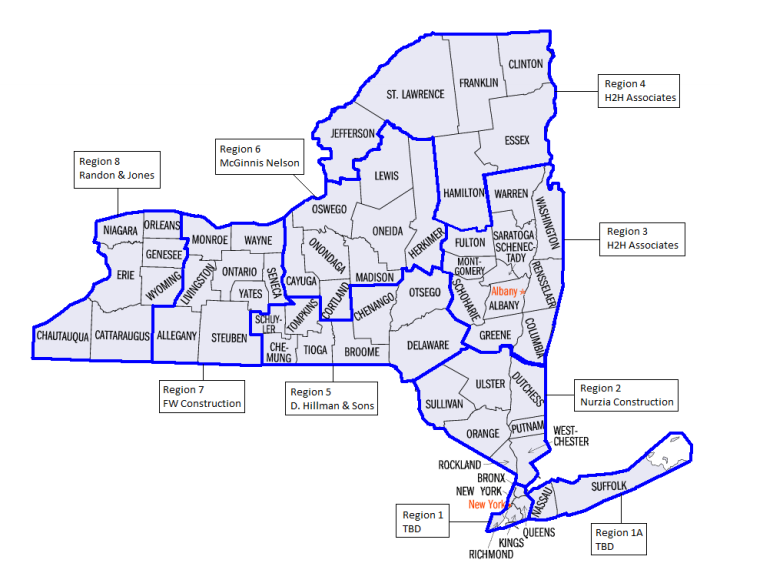 In 2011, DASNY, at the request of the New York State Office for People With Developmental Disabilities (OPWDD), developed a Community Minor Maintenance (CMM) Program to undertake smaller construction projects at OPWDD's community residences located throughout the State of New York. CMM Program projects are typically projects with a single scope of work ranging in value from $10,000-$75,000 and generally consist of exterior work including roof replacement, driveway replacement, and renovations or replacement of exterior decks, windows, stairways, and entrances. Interior renovations such as kitchen and bathroom rehabilitation, painting and flooring replacement may also be undertaken under the CMM Program.  
Work under the CMM Program may be accomplished through either a Job Order Contract (JOC) contract or a General Contractor (GC) Minor Maintenance contract. The (GC) Minor Maintenance contract method provides a more expedited contracting process and provides a more cost-effective method of managing and supervising the work.  
Under the GC Minor Maintenance contracting method, a general contractor, through a competitive procurement process, is awarded a regional contract based upon an agreed upon mark-up percentage. The general contractor's mark-up percentage covers their cost for supervising and coordinating the work as well as their overhead, profit, bonds and insurances.  The general contractor applies the mark-up percentage to any sub-contractor performing work on a CMM Program project. For each project, the general contractor is required to solicit at least three quotes for the scope of work. 
Under the CMM Program, each GC Minor Maintenance contract is for a term of two years and has a dollar cap of $40,000 (excluding the general contractor's agreed upon mark-up percentage) on individual work orders. The CMM Program is organized into nine regions across the State, and the following general contractors were selected pursuant to GC Minor Maintenance contracting method for each region as set forth below.
Processing data... please wait.
| Region Number | Region | Contractor |
| --- | --- | --- |
| Region 1 | NYC | Integrated Construction Enterprises |
| Region 1A | Long Island | Roxbury Contracting Inc. |
| Region 2 | Hudson Valley | Nurzia Construction |
| Region 3 | Capital District | H2H Associates (MBE) |
| Region 4 | North Country | H2H Associates (MBE) |
| Region 5 | Binghamton Area | D. Hillman & Sons |
| Region 6 | Syracuse/CNY Area | McGinnis/Nelson Inc. |
| Region 7 | Rochester Area | FW Construction |
| Region 8 | Buffalo Area | Randon & Jones (MBE and WBE) |