City University of New York (CUNY)
The City University of New York (CUNY)
Advanced Science Research Center
City University of New York (CUNY)
CUNY'S Advanced Science Research Center
City University of New York Chancellor Matthew Goldstein pledged a resurgence of science in 2001. He and the Board of Trustees set in motion what would become CUNY's "Decade of Science."
The $2 billion effort to attract and retain the best and brightest scientists included a vision of a capstone science center where researchers would reach across disciplines to deliver high-value breakthroughs. This flagship enterprise would help lead CUNY, and New York City with it, into a future defined by discovery and economic prowess.
Dr. Gillian Small, CUNY's Vice Chancellor for Research, was designated to lead a team of 50 scientists from throughout the University to help plan the center, a process that produced a building whose design is as inventive as the research to be pursued within it.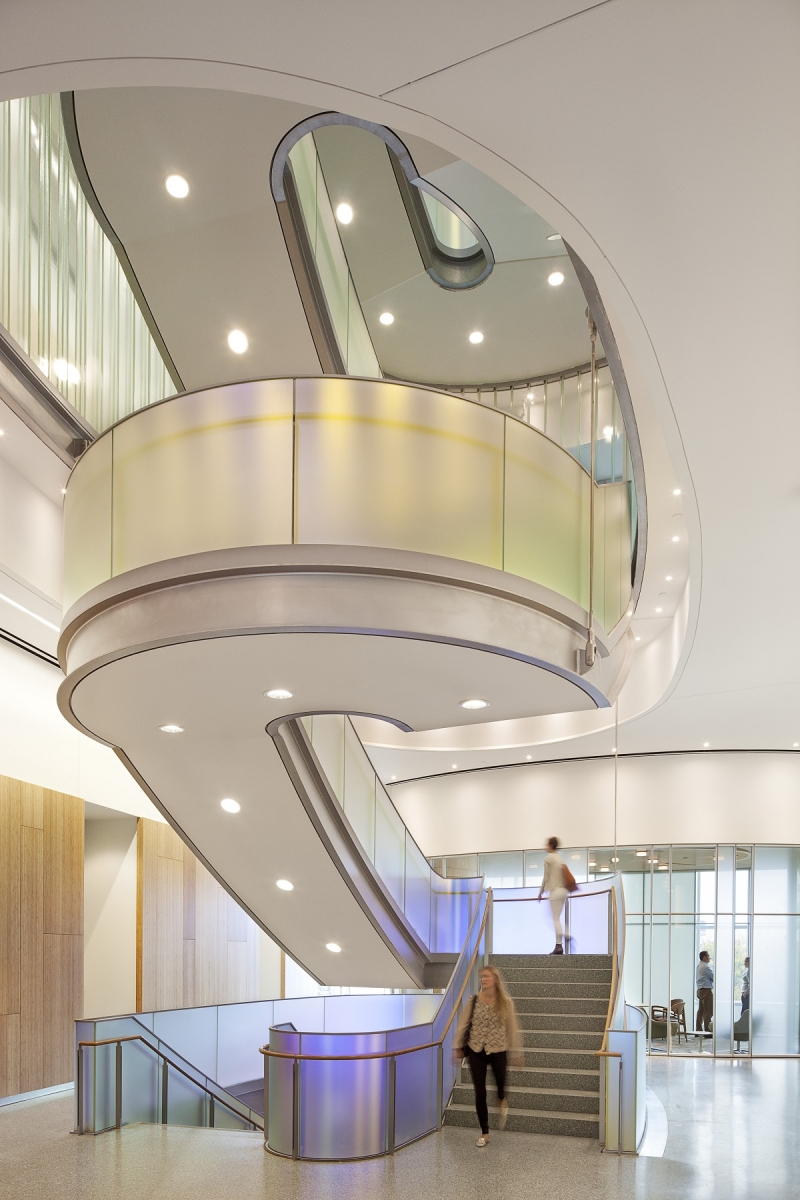 CUNY's vision became the Advanced Science Research Center (ASRC). The glass-enclosed laboratory, meant to breed discoveries that will take medicine and technology in new directions, was financed and built by DASNY. It is adjacent to a new, state-of-the-art science building at City College of New York (CCNY), the   Center for Discovery and Innovation, also financed and built by DASNY. The two facilities combine to a value   of approximately $700 million, making them the highest value project in DASNY's history. The work was completed in DASNY's Fiscal Year 2016.
For New York City and the Harlem community that immediately surrounds it, the ASRC represents a promising  economic future. As a strategic element of New York State's commitment to science, innovation and economic development, the ASRC is located on the south campus of CCNY, a home of the Start-Up New York business program.
The facility's promise for the future will be grasped by scientists who work with others outside their fields of  study to make the connections that lead to discoveries, Small said.
 "You can get scientists who are fantastic scientists and do wonderful work, but they shutter themselves away until they shout 'Eureka'," said Small, a cell biologist who has made breakthroughs in how cells break down fat. "That's great, but that's not what we are looking for at the ASRC. We are looking for people who are collaborative and interactive. We want to go beyond great science and extend the possibilities of science by scientists collaborating with other scientists across the disciplines."
Together, Small and her collaborators conceived the DNA of a uniquely collaborative research culture. DASNY's construction management team helped bring their vision to reality.
With its flowing floor plans and open central stairway, the building promotes intellectual cross-pollination and partnerships between labs – a literal vertical integration of big ideas. Researchers from all initiatives work side-by-side in the ASRC's core facilities, sharing equipment that is among the most advanced in the world.
The structure is a shift from tradition where each discipline is typically in a different wing or even a different building. Communal spaces like a café and tea rooms offer the opportunity for scientists to mingle and discuss their work.
In a standard building, "I might know who another program director was, but wouldn't have lunch with him and talk up a crazy idea. Here that happens," said Dr. Kevin H. Gardner.
Gardner is the Director of the ASRC's Structural Biology Initiative: the convergence of biology, chemistry, physics and engineering. The other four initiatives being pursued at the ASRC include:
Environmental CrossRoads: Where humans and ecology meet.
Nanoscience: Using microscopic building blocks to create new materials.
Neuroscience: Mapping the brain's biochemistry.
Photonics: The creation and impact of radiant energy.
These initiatives are seeking new medicines to combat Alzheimer's and Parkinson's diseases, and solutions to the world's water problems. They're also examining how light can be used to detect bacteria in a terrorist attack and find cancer without a biopsy, among other avenues of research.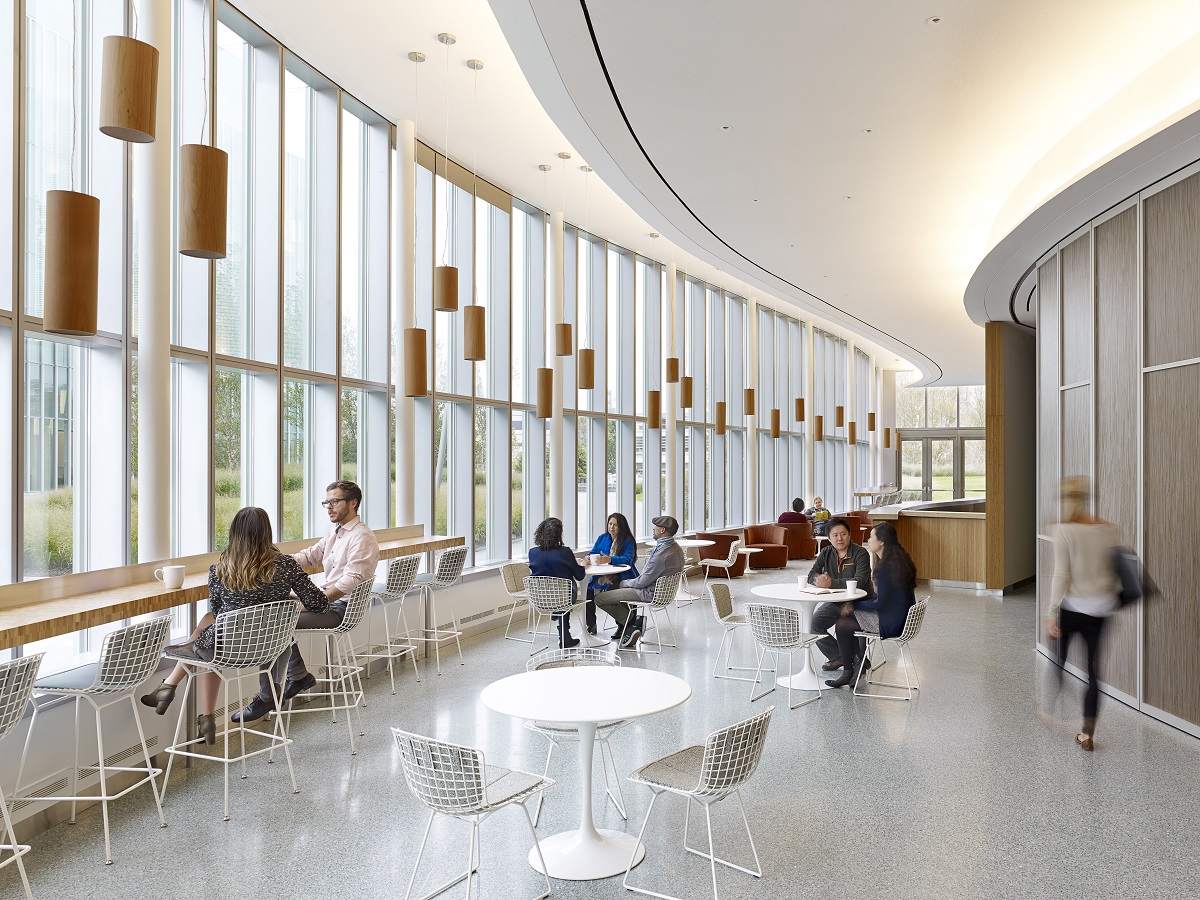 Since taking on her leadership role at CUNY, Small has made it her priority to prepare the next generation of scientists and to support discoveries by her researchers all the way to the marketplace.
Successful discoveries by CUNY scientists will be patented, spun-off and developed as new companies at an incubator facility CUNY established on 125th Street in Harlem.
Those that are successful "will stay in New York, develop a larger science community, contribute to society and provide new jobs for New Yorkers," Small said.
Before discoveries can be marketed, they must be made.
"Being in the same building here, communicating with people who are in different areas, you don't know what you will find," said Dr. Charles J. Vörösmarty, Director of the Environmental CrossRoads Initiative. "It will occur with environmental people talking to the cell biology people who then talk to the nanoscience people. Then everyone comes back to the table and talks about human health, the provision of water supply. That kind of thing is catalytic and we are set up to do that."