Join DASNY President & CEO, Reuben R. McDaniel, III
to learn about upcoming DASNY Job Order Contracting (JOC) Opportunities
Date: Wednesday, July 21, 2021
Time: 10:00a.m. - 12:00p.m.
Location: Virtual event via WebEx

Hear from the following presenters: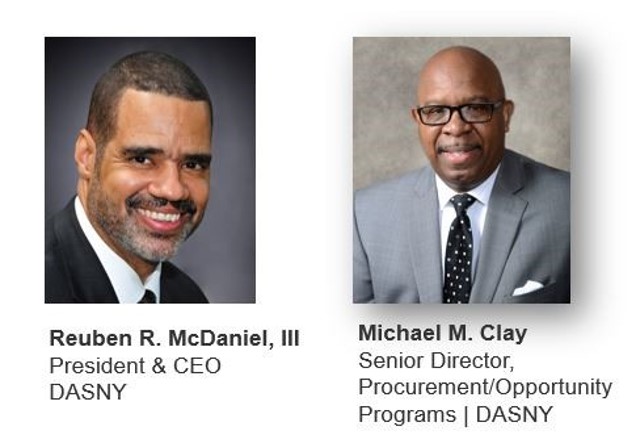 Purpose of the Webinar:
Within the coming weeks, the Dormitory Authority of the State of New York (DASNY) will issue Requests for Proposals (RFPs) in various regions statewide for new General Construction, Electrical, HVAC, and Plumbing JOC contractors. In advance, DASNY is hosting this webinar to afford New York State Certified Minority- and Women-owned Business Enterprises (MWBEs) and Service Disabled Veteran-Owned Businesses (SDVOBs) an opportunity to become familiar with the JOC Program, understand how it works, and have their questions answered by expert DASNY resources.
What is Job Order Contracting?
JOC is a type of procurement designed to provide faster contracting time to speed project delivery. DASNY's JOC Program awards term construction contracts in 10 regions statewide, from New York City and Long Island to the North Country and Western New York, for General Construction, Electric, Plumbing, HVAC and Asbestos Abatement/Hazmat. 
How do I Register? 
Register using the following:

Registration Link

After registering, you will receive a confirmation email containing information about joining the WebEx meeting.