Orange Regional Medical Center (ORMC)
Orange Regional Medical Center
New Cancer Center and Outpatient Building
Orange Regional Medical Center (ORMC)
Orange Regional Medical Center Expands Outpatient Services and Cancer Services
The fight against cancer took a huge step forward on September 26th, 2016.
That's when Orange Regional Medical Center (ORMC) welcomed patients to its new cancer center and a new outpatient building in the Town of Wallkill– buildings funded in large part with tax-exempt bonds from DASNY. It is part of DASNY's long-standing commitment to provide best-in-class health care institutions with the resources they need to better serve their communities.
The single-story cancer center and the five-story outpatient building are adding a combined 79,000 square feet of space to ORMC's 73-acre site, making it an even more desirable healthcare destination.  Dr. Nader Okby, Medical Director of Tumor Site Development says being able to receive excellent treatment at home, right around the corner is paramount to a successful outcome in the fight against cancer.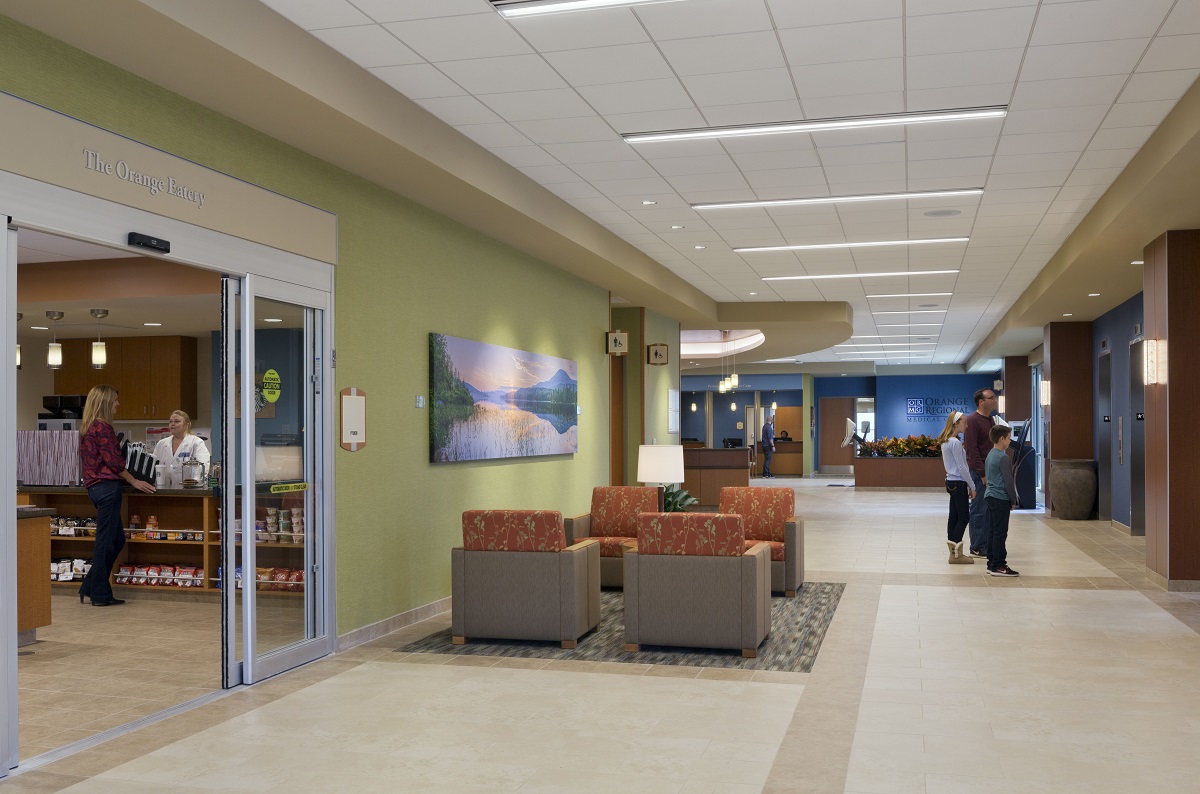 The center was made possible from the issuance of $66 million in new tax exempt bonds in 2015 and just over $5 million in tax-exempt bonds from DASNY, which were available from a $261 million bond issue for the main hospital in 2008 when construction came in under budget. DASNY worked with the NYS Department of Health to make sure the leftover funds could be used for the new project under the IRS's "Tax Equity and Fiscal Responsibility Act" (TEFRA) requirements.  Under these rules ORMC was allowed to improve and expand upon the existing campus since the cancer center and outpatient building would be built at the same location, according to DASNY Senior Financial Analyst Matt Bergin.
"DASNY was an integral partner in our successful financing and building of the new hospital which opened in 2011 so we were familiar with their processes to execute a large project like our Outpatient Building and Cancer Center,"  said Rick Carrico, CFO of the Greater Hudson Valley Health System. "DASNY has a good relationship with the Department of Health (DOH) that helped us move the project through the approval process efficiently and take advantage of favorable market conditions to issue tax exempt bonds."
The rest of the funding came from private donations and from the hospital itself. And it's not just the care, but the convenience factor that is appealing to patients.
"The new center provides a one-stop shop for patients," said Carrico. "As we integrate our healthcare delivery system, patients are now able to access physician, diagnostic and treatment services on a single campus. It's all right here for them."
"I think that we have all the technology and everything that we possible need here", said Michelle Worden, RN, a Patient Navigator in the Breast Center. "I think that you can get everything you want and need from the big city up here. I think the doctors are fantastic, and I think you shouldn't have to travel anywhere to get the care you need here."
Ralph Carr's wife, Kyra, is an oncology nurse and patient. "Being local definitely made that (supporting Kyra) easy," said Carr. "Kyra was so positive throughout the whole experience. She was just incredibly strong. And part of that, I think, is because she was having treatment right here."
"I think it's wonderful that we're doing this," said Phyllis Brown, a volunteer at ORMC and a patient. "For me it was difficult to go to Goshen every day for my radiation treatment. To have everything in one place is some sort of a miracle."
Carrico says the environment of care fostered in the Outpatient Building and in the Cancer Center goes far beyond technology, calling the building "beautiful and highly functional."  In addition to new floors, gas fireplaces, brightly-colored walls and furnishings that match the locally-made art on the walls, the facility's Infusion Therapy Center overlooks a "Healing Garden," which patients can admire while getting treatment. The garden features plants that attract hummingbirds and bronze statues of children playing. There's also a "Healing Boutique" where patients and family members can purchase hats, scarves, lotions, and soaps.
As for the outpatient building, here's what you'll find:

FIRST FLOOR: The breast center with all 3D mammography, lab, diagnostic imaging, and primary and urgent care. It has a baby grand piano, a café and a retail pharmacy open to the public.

SECOND FLOOR: cardiac rehab center, conference rooms, an ambulatory surgery center, diabetes treatment center and administration offices.

THIRD FLOOR: designated space for primary care doctors and specialists.

ADDITIONAL FEATURES: motion-detecting lights, remote-controlled blinds, touchscreen check-in stations whose screens are sanitized by UV lights, and a Varian TrueBeam linear accelerator that has "pinpoint accuracy" to remove tumors with minimal damage to surrounding tissue.

 
All of these features and their purpose weighed in on DASNY's decision to help facilitate the financing. Here it's not just what you build, but how you build it and who you're building it for. When it comes to borrowing, the institution involved and the project itself are two main components in determining if funding is approved. As Betty Koshy, Director of Radiation Oncology puts it, they (at ORMC) are not just treating patients, but their families.
That is one of the reasons why The Greater Hudson Valley Health System chose DASNY to help make this dream a reality. Both entities realize the broader impact of the work being done and the lasting impact it will have on the community.
DASNY is proud to partner with GHVHS and other health care institutions like it across New York State to help provide them with the low cost financing they need to continue to evolve and deliver top quality health care.