New York State Office of Parks, Recreation and Historic Preservation
Letchworth State Park
Letchworth State Park, Humphrey Nature Center
New York State Office of Parks, Recreation and Historic Preservation
Letchworth State Park, known as the "Grand Canyon of the East," was already drawing more than 800,000 visitors annually before the New York State Office of Parks, Recreation and Historic Preservation, DASNY and the private sector partnered to develop the Humphrey Nature Center.
The 5,000-square-foot Center completed in July 2016 offers year-round experiences for all ages. Visitors can enjoy interactive exhibits and programming that highlight the plants and animals, geology, and river ecology of the Genesee Valley. Guests learn about the building's sustainable solar panel and rainwater collection features and watch stunning aerial video of the park displayed on the face of a large reconstruction of the gorge wall.
Outside, visitors can explore an outdoor classroom, bird observation station, and multiple hiking trails that lead to various points of interest such as Trout Pond, Inspiration Point Overlook, and patches of old-growth forest. The Nature Center will lead to an economic boon for the surrounding communities, said Elissa Leuer, Director of Tourism & Marketing for the Livingston County Area Chamber of Commerce.
"Livingston County and the region as a whole are so proud to have this new state-of-the-art facility, which further enhances the appeal of Letchworth State Park to both the local community and visitors from abroad," Leuer said. "Year-round, park guests can now enjoy both interior exhibits and informational programs, but also the beautiful exterior and well-planned natural features which provide a new appreciation for the outdoors."
The project complements "Finger Lakes Forward," the region's comprehensive blueprint to generate robust economic growth and community development.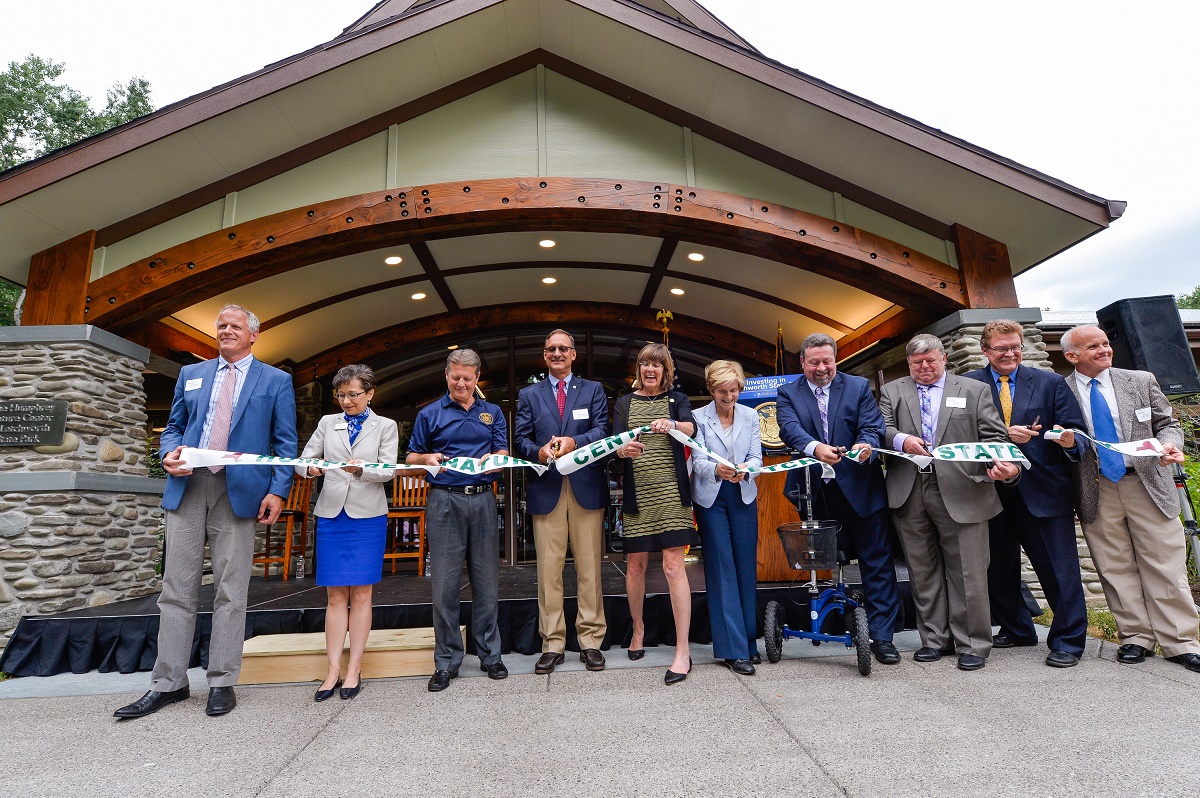 The Nature Center received $1.1 million in funding from the Finger Lakes Regional Economic Development Council (REDC), which created the "Finger Lakes Forward" blueprint.
More than $3.5 million was provided through the NY Parks 2020 program, a multi-year commitment of $900 million in private and public funding to revitalize State Parks. The center is named for Peter G. Humphrey, whose fundraising efforts secured the critical $3.2 million in private investment and grants necessary for making the project a reality.
DASNY provided construction monitoring services while the State Office of Parks, Recreation and Historic Preservation held the contracts.
In 2015, Letchworth State Park was awarded the 2015 USA TODAY Readers' Choice Award for Best State Park. Known for its impressive views, geological formation and 66 miles of hiking trails that traverse the Park's 14,350 acres, the Park is also defined by the 17 miles of the Genesee River that tumble over three major waterfalls and gorge cliffs.