The New York State Office of Mental Health (OMH)
The New York State Office of Mental Health
Bronx Behavioral Health Campus
The New York State Office of Mental Health (OMH)
The New York State Office of Mental Health (OMH) needed a new behavioral health facility in the Bronx that would provide New York's most vulnerable residents with a place to heal, recover and find independence.
DASNY delivered it to them with the $350 million Bronx Behavioral Health Campus on a 35-acre site in Morris Park. The campus is a model for using design and structure to transform mental health care from the long hospital stays that were the norm when the Bronx Psychiatric Center was first built in 1963. Today's modern facilities focus their attention on transitioning patients back to the community. They're part of a continuum of care.
"Our vision is one of hope, recovery and leading a full and complete life," said Dr. Ann Marie Sullivan, Commissioner of OMH.
Spread over six buildings and more than 436,000 square feet, the campus provides different intensities of care. The inpatient buildings feature secure indoor and outdoor recreation areas, cutting-edge electronic monitoring technologies, motivational education settings and comfortable living quarters. Patients can progress to a residential village, which expands the availability of much-needed supported, transitional and crisis housing. The village houses three OMH residential programs.
"The new architecturally welcoming space, brightened by natural light from hundreds of windows and surrounded by thoughtful landscaping, will help our patients feel connected to the outside world and feel hopeful for the future," said Bronx Psychiatric Center's Acting Executive Director Anita Daniels, RN-BC, MS. "The open design of the treatment units will enable our employees to provide better supervision of patients and have the space they need to provide safe one-on-one care."
The design was approached with great care. Over its five years of development, teams of designers visited behavioral health facilities across the nation, bringing back the best ideas and incorporating them into the Bronx campus.
"It is on the cutting edge of design for psychiatric care," said Ron Gecsedi, Chief Project Manager at DASNY.
Community Connection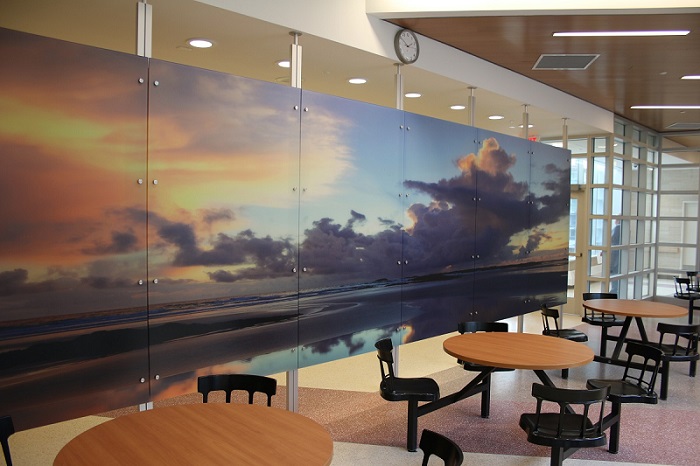 The Bronx Behavioral Health Campus is linked to the surrounding community by those who built it and its design.
Of the more than 5,000 workers on the project, approximately 18 percent were from the Bronx.
The facility is also integrated into the community, transforming it from a secluded campus. Adjacent to the campus is a recently constructed Residence Inn and Applebee's Restaurant, providing visiting family members with lodging and dining options. New baseball and soccer fields were constructed for public use. Land not being used for the new campus is being privately developed to bring facilities needed by the surrounding community, including shops, restaurants and offices.

$1 Billion in MWBE contracting
Since 2011, DASNY has facilitated more than $1.58 billion in work to Minority-owned and Women-owned Business Enterprises.
More than 10 percent of the $1 billion was achieved while DASNY managed the construction of the Office of Mental Health's $350 million Bronx Behavioral Health Campus. DASNY exceeded Governor Cuomo's 30 percent MWBE participation goal on the project.
The more than $1 billion was earned by prime construction firms, sub-contractors and suppliers, construction-related professional services firms, commodities and services firms, accounting companies, and legal firms.
DASNY's Opportunity Programs Group incorporates MWBE contracting into every stage of project delivery. It ensures that working with MWBEs is a focus even before a contract is drafted and remains so until it is closed. This helps replicate the successful participation of MWBE firms in the Bronx Behavioral Health Campus in all projects DASNY delivers.