Monroe Community College (MCC)
Monroe Community College
Downtown Campus, Interior Design and Purchasing
Monroe Community College (MCC)
Rochester has long been a center of innovation in Western New York. It is where George Eastman and Henry Strong decided to build their photography empire. It is the birthplace of Bausch & Lomb and Xerox.
In 2017, when Monroe Community College (MCC) opens the doors of its new $78 million, 255,000-square-foot Downtown Campus on State Street in Rochester for the fall semester, MCC will greatly expand its ability to provide the education and training for jobs that will further fuel the region's resurging economy.
Since establishing a temporary campus in 1992, MCC has searched for a permanent downtown location that the college can own and build upon, and that the community can call home. MCC's Downtown Campus, spread across seven floors, fulfills the college's vision, giving students a campus that reflects their dreams and aspirations.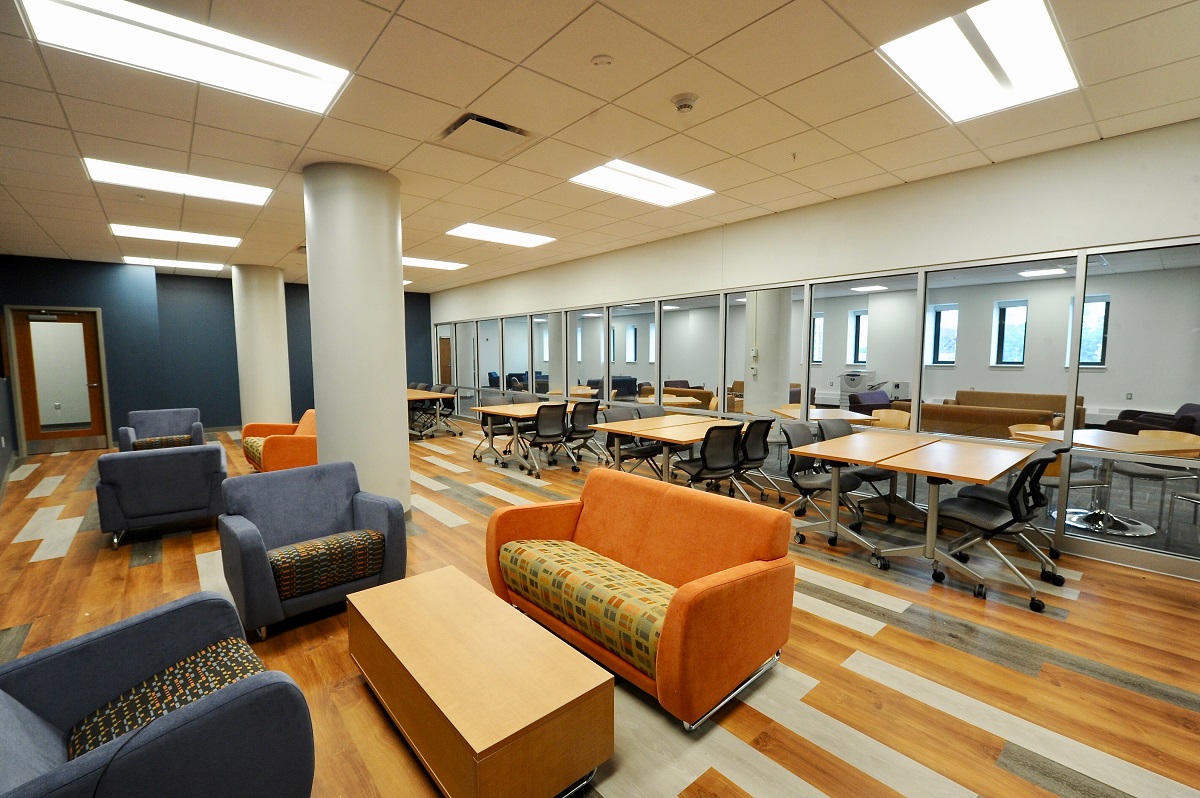 "When students come to our new Downtown Campus, we want them to think, 'This is my home; this is where I want to learn; this is where I want to complete my degree.' Our goal is to create a dynamic, innovative and welcoming learning environment that matches the aspirations of our students and the needs of the local community—and to do that within budget," said Former Monroe Community College President Anne M. Kress. "This new facility will help us prepare students for 21st-century careers, strengthen MCC's connection to Rochester, and grow our regional economy."
To help fulfill the dream, MCC needed help with interior design, and purchasing furniture and equipment.
"We turned to DASNY because of its unique ability to manage the procurement, purchasing and interior design of our new Downtown Campus," said Blaine Grindle, Monroe Community College's Facilities Director. "With a $10 million budget for furniture and equipment, the task of procuring quality, sustainable, and durable items at a competitive cost required more time and expertise than we had. DASNY unburdened our staff by managing every aspect of procurement including budget development and the integration of MWBE inclusion at every step along the way. DASNY went above and beyond to make certain our vision becomes a reality." 
DASNY completed the project about $1 million under budget with an MWBE participation rate of above 50 percent. 
Former DASNY President & CEO Gerrard P. Bushell toured the nearly completed campus with Kress in June 2017.
"Monroe Community College's Downtown Campus is an incredible achievement," Dr. Bushell said. "DASNY is proud to have helped MCC fulfill its vision and create a welcoming environment in which students can make the most of the opportunities they have here. It was a pleasure to work with such a leading organization that is playing a pivotal role in fast forwarding the Finger Lakes regional economy."
MCC's Downtown Campus is located in Rochester's High Falls District, a neighborhood in the midst of an economic surge centered on tech start-ups, and a growing commercial center. In its new, expanded campus, the College will grow opportunities for civic engagements and experimental learning, particularly with the employers in the surrounding neighborhood.
The top floor of the Downtown Campus houses MCC's nationally recognized Economic & Workforce Development Center, giving it the space it needs to continue to grow and serve the community's workforce needs. Its new home will allow the Center to expand credit and noncredit programming and professional development opportunities, and develop and enhance ties with Rochester businesses and community groups. 
Students will also benefit from the reimagined space, where DASNY-designed interiors provide flexible classrooms and laboratories with rolling chairs and tables, and desks integrated with computer technology. Bright colors throughout create a welcoming, energetic vibe.
"In my travels around the Finger Lakes region as Rochester Chamber CEO, I have heard from many business leaders about the challenge of finding qualified workers for open positions," said Bob Duffy, Greater Rochester Chamber of Commerce President and CEO and a SUNY Trustee. "The move of Monroe Community College into a larger, upgraded downtown Rochester facility will enhance its already robust workforce development efforts to get people ready for these good jobs that are currently available. This greatly benefits our region's economic vitality for now and the future."