Homeless Housing Assistance Corporation and The New York State Office of Mental Health
Homeless Housing Assistance Corp.
Supporting New Yorkers In Need
Homeless Housing Assistance Corporation and The New York State Office of Mental Health
A deteriorating former nursing home in Ronkonkoma on Long Island. A long-vacant big box store in the Buffalo suburb of West Seneca. Both transformed into affordable, supportive housing that brings new life to the surrounding neighborhoods and to those who will call them home.
Across New York State, DASNY provides construction services to support New York State's mission to create more than 100,000 units of affordable and supportive housing over the next five years. In Fiscal 2017, DASNY provided construction monitoring services for almost $1.3 billion in projects for the Homeless Housing Assistance Corporation.
In Ronkonkoma, the State's effort led to the creation of Liberty Landing apartments, a 59-unit home for veterans who didn't have one that provides assistance with behavioral health, medical, vocation and social services these American heroes need to live successful lives. DASNY, through its partnership with the Homeless Housing Assistance Program, monitored construction on the $24.8 million project.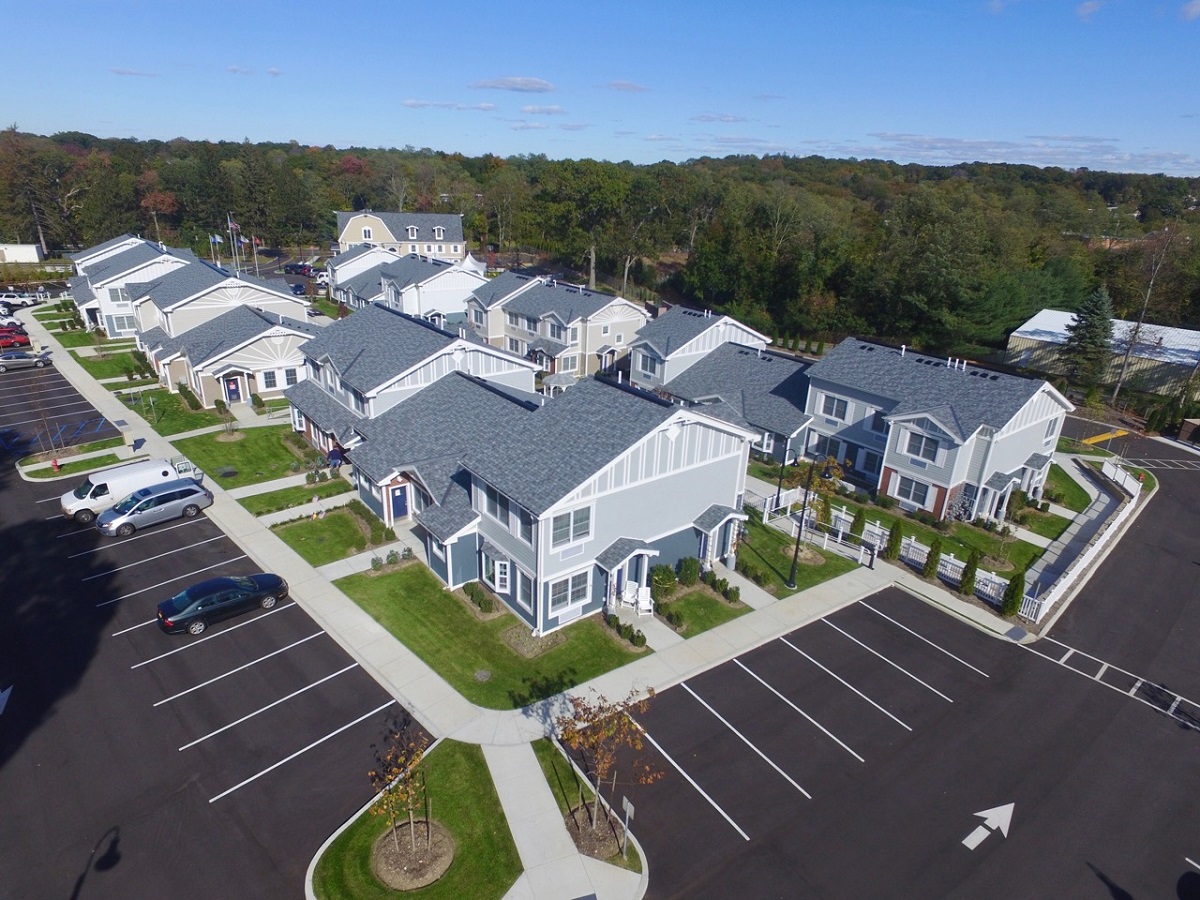 Liberty Landing, which opened in October 2016, will house 30 formerly homeless veterans in apartments. It is operated by Concern for Independent Living, a not-for-profit.
"We have been very fortunate to have the support of Former Governor Cuomo and the three state agencies that helped make Liberty Landing a reality. Together with DASNY, Suffolk County, National Equity Fund, Bank of America and The Community Preservation Corporation, we have created housing that matches the pride that we have for the veterans who have served our country," said Ralph Fasano, Executive Director of Concern for Independent Living, Inc.
On the opposite end of the state, DASNY monitored construction as Ebenezer Square Apartments in West Seneca in Erie County replaced a blighted, big box store with 25 affordable apartments integrated with a 75-unit, licensed residential program serving adults with psychiatric disabilities. It creates a community that fosters recovery and independence.
Licensed by the New York State Office of Mental Health, Ebenezer Square operator, Living Opportunities of DePaul, will provide residents with 24/7 access to care, living skills training, medication management and links to medical and dental care, health education, and educational and vocational services.
The $24.4 million, 124,000-square-foot building was supported by $16.5 million in low-cost, tax-exempt bonds issued by DASNY.
"This project clearly demonstrates that housing can bring a positive impact to communities like West Seneca," said West Seneca Supervisor Sheila M. Meegan. "Ebenezer Square demonstrates that balancing resources will bring us closer to ensuring the opportunity of housing to those who may not have a place to call home."