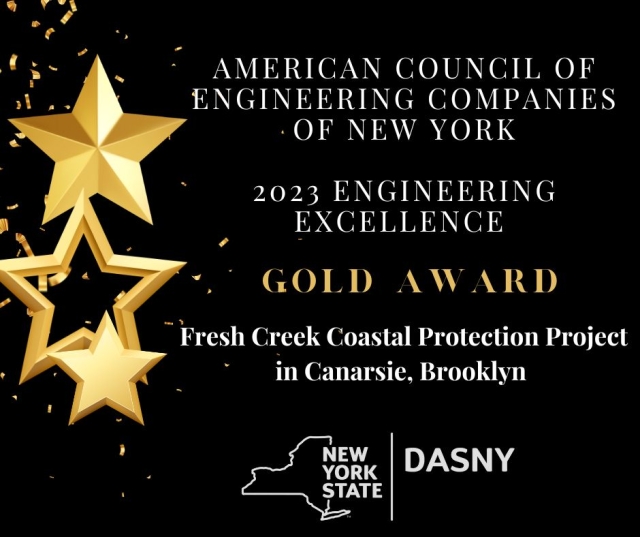 The Dormitory Authority of the State of New York (DASNY) is pleased to announce that the Fresh Creek Coastal Protection Project in Canarsie was honored with a Gold Award by the American Council of Engineering Companies (ACEC) of New York's 2023 Engineering Excellence Awards Program at the 56th Annual Engineering Excellence Awards Gala in New York City on March 24, 2023.
Managed by DASNY, the Governor's Office of Storm Recovery project will prevent flooding in Canarsie during future storms and help the community recover more quickly from flooding in the future. The project was completed late last year.  
"DASNY's work on environmental resiliency helps protect and strengthen communities and helps prepare vulnerable areas from storm-related damages," said Reuben R. McDaniel III, President & CEO of DASNY.   "We are grateful to Governor Hochul for her commitment and leadership in this area, and to our partners whose work benefits so many New Yorkers and their communities."
The project addressed flooding of Fresh Creek during high tides and storms and its impact on the storm sewage system.  DASNY worked with the Urban Engineers of New York and KS Engineers, P.C. Joint Venture consultant team to identify coastal protection elements for Fresh Creek, and create a feasibility study and design of shoreline stabilization measures, and develop flood barriers and green infrastructure to mitigate water run-off. The teams also developed living shoreline strategies for coastal protection, flood mitigation, and improved rainwater management, and identified areas with the highest risk of climate change-related flooding and potential resiliency elements.  
The Urban Engineers of New York and KS Engineers consultant team provided design solutions that will protect one of the most-at-risk sections of Fresh Creek's shoreline, and help the community adapt to the effects of climate change by reducing flooding during future storms and due to sea-level rise. The team's solutions incorporated tide gates along the coastal boundary of the project, low level barriers, living shorelines, and green infrastructure. The final design included outfall reconstruction and tide gate installations to prevent future flooding, as well as help the community recover more quickly.
The Engineering Excellence Awards are presented to projects that encompass both the public and private sector in the following categories: studies, research, and consulting services; building/technology systems; structural systems; surveying and mapping technology; environmental; waste and storm water; water resources; transportation; energy; industrial and manufacturing processes and facilities; and special projects.