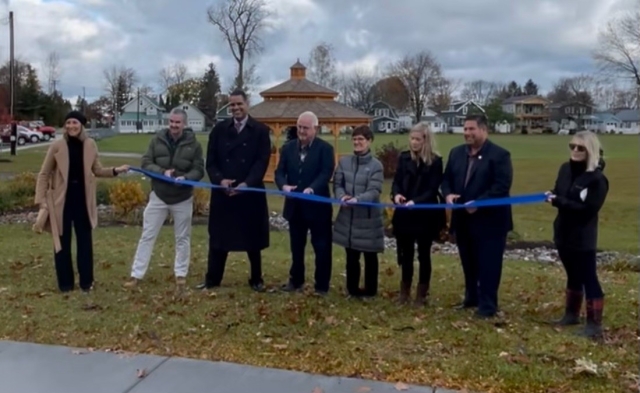 Project Replaced Stormwater Infrastructure along Wickham Boulevard and Greig Street to Alleviate Flood Risk and Improve Water Quality of Sodus Bay 
Part of State's Resiliency and Economic Development Initiative    
$342,000 Lakestones Drive Flood Resiliency Project Will Stabilize Shoreline and Fortify Village's Wastewater Infrastructure; Mitigate Future Damage and Safeguard Public Health     
Pictures of the project here   
Governor Kathy Hochul today announced the completion of a Resiliency and Economic Development Initiative (REDI) project in the village of Sodus Point, Wayne County. The village is a popular destination for boaters, drawing visitors from across the state. The completed $7.58 million REDI grant-funded project at Wickham Boulevard and Greig Street will protect public areas, businesses, and homes from future flooding and provide additional recreational opportunities, safeguarding this community's critical tourist industry.   
"New York State is committed to boosting resilient infrastructure that will help prevent flooding in our waterfront communities," Governor Kathy Hochul said. "The Wickham Boulevard and Greig Street resiliency project in the village of Sodus Point will increase flood protection measures and enhance shoreline resilience to help protect businesses and residents and enhance public safety. Improved infrastructure is critical to enhancing quality of life and safety and advances our efforts to build back better and strengthen the economy for the future."  
The village of Sodus Point completed the Wickham Boulevard and Greig Street flood mitigation efforts with Department of State oversight. The project replaced and expanded stormwater infrastructure along Wickham Boulevard and Greig Street to alleviate flood risk and improve water quality in Sodus Bay. The new system will convey stormwater to outlets with gate valves, which will reduce the amount of sediment and debris entering the bay. In addition, the project installed permanent pumps to handle stormwater during severe weather events accompanied by high water levels in Lake Ontario.  
The project also includes a seawall along Wickham Boulevard to protect the roadway from wave impact on the shoreline. The seawall will provide a new sitting area for visitors to stop and admire the scenic view of Sodus Bay. Additional upgrades include new pavements, gutters, curbs, and sidewalks to improve connectivity between the businesses and residential neighborhoods, promoting active transportation and enhancing pedestrians' experience. 
Governor Hochul also announced today the start of construction of the third of four projects awarded to the village of Sodus Point. Lakestones Drive is located along the southern shore of Lake Ontario. High water levels and waves driven by severe storms have caused extensive erosion along the shoreline and nearby properties, endangering homes and inundating area sanitary sewers. The REDI Commission awarded the village $342,000 to help address shoreline erosion and to fortify wastewater infrastructure west of and along Lakestones Drive. This project includes reconstructing the sanitary sewer main further back from the shoreline and stabilizing approximately 290 feet of adjacent Lake Ontario shoreline by installing a large armor stone rock revetment. These efforts will bolster the village's past flood mitigation efforts, including the placement of riprap, stone rubble, and concrete barriers, to protect the shoreline from further erosion and prevent the sanitary sewer main from collapsing.  
New York State Secretary of State Rossana Rosado said, "New York State remains committed to helping Lake Ontario communities revitalize their waterfronts and strengthen resiliency against future flooding. The Department of State is proud to have worked with the Village of Sodus Point and its elected officials on improving the public stormwater infrastructure and shoreline erosion around Sodus Point Beach. These improvements will bolster tourism and boost the local economy, benefitting the residents of Sodus Point and its many visitors."  
New York State Department of Environmental Conservation (DEC) Commissioner and REDI Commission Co-Chair Basil Seggos said, "New York State is making generational investments to increase the ability of communities along Lake Ontario and the St. Lawrence River to protect critical infrastructure and local assets from severe storms and high water. Today's announcement in the village of Sodus Point demonstrates the State's sustained commitment to improving community resilience through the Resiliency and Economic Development Initiative. New York State is working hand-in-hand with flood-prone communities like the village of Sodus Point to improve infrastructure, protect community assets, and promote economic growth." 
Dormitory Authority of New York State President & CEO Reuben R. McDaniel, III said, "The work being done in Sodus Point and in waterfront communities across our state is absolutely essential to protect New Yorkers from the impact climate change has on their communities, their property, and their economy. DASNY is proud to support Governor Hochul in this critically important work to fortify New York against weather-related threats." 
State Senator Pamela A. Helming said, "We need only look to the recent flooding event that hit many communities in our region to be reminded of the importance of infrastructure projects like this. Thank you to Mayor Dave McDowell and the village, and state agency partners, for their work in completing this project that protects homeowners and businesses, and the natural resources critical to the local tourism industry and economy."  
Assemblymember Brian D. Manktelow said, "As a community driven by our most precious natural resource, I am happy to see the REDI program complete another project that will protect our towns as well as the water quality of Sodus Bay.  The improvements made to Wickham Boulevard and Greig Street will help safeguard homes, business and infrastructure in the event of another flooding event. Also, through the expanded stormwater infrastructure we can help keep Sodus Bay clean for our friends and families for many generations to come. Thank you to all who were involved in making this project a priority." 
Sodus Point Mayor Dave McDowell said, "The completion of this project marks a significant point in the history of this Village as a more resilient exemplary community. One that will continue to strengthen and grow as the needs of its citizenship and the environment diversify. This project has not only incorporated best management practices for storm water but also beautification and pedestrian improvements that were recommended in the 2019 Active Transportation Plan. While it is my hope to never have to turn the pumps on for a high-water event, I am confident that we have done everything in our power to ensure that the community will not suffer as they have from our previous flood prevention tactics. It has been my honor to work alongside the State of New York and local professionals to complete the project for this community."
In response to the extended pattern of flooding along the shores of Lake Ontario and the St. Lawrence River, New York State established REDI to increase the resilience of shoreline communities and bolster economic development in the region. Five REDI Regional Planning Committees, comprised of representatives from eight counties (Niagara and Orleans, Monroe, Wayne, Cayuga and Oswego, and Jefferson and St. Lawrence) were established to identify local priorities, at-risk infrastructure and other assets, and public safety concerns. Through REDI, the State has committed up to $300 million, to benefit communities and improve resiliency in flood prone regions along Lake Ontario and the St. Lawrence River. 
Since the creation of the State's REDI program in the Spring of 2019, 134 REDI funded local and regional projects are underway, including 83 projects in the design phase, 21 projects in the construction phase, and 30 projects completed.  
For more information on the Sodus Point REDI projects and other REDI projects in the Wayne County Region, please click here.