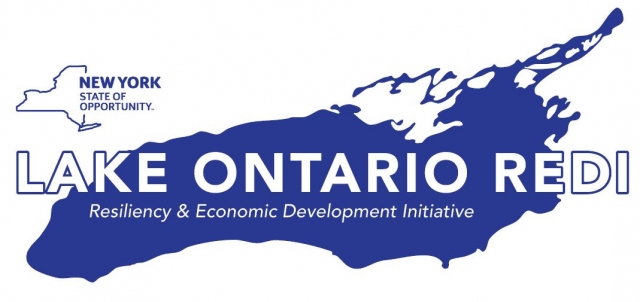 Installation of Offshore Breakwater Will Mitigate Shoreline Damage and Extreme Weather Impacts to Olcott Harbor
Project Selected as Part of Governor Cuomo's Resiliency and Economic Development Initiative
Governor Andrew M. Cuomo today announced the start of construction of a $14 million resiliency project awarded to the Town of Newfane, Niagara County through the Resiliency and Economic Development Initiative. Olcott Harbor is an important recreational harbor located on the southern shore of Lake Ontario. The harbor area includes the Town of Newfane Marina, Olcott Yacht Club, Hedley Boat Company, McDonough Marine, and several private homes. In 2019, the harbor entrance was devastated by flooding, wind-driven waves, and sediment deposition in the navigation channel. High water levels, wave agitation, and new sediment deposits prevented safe refuge and navigation by large and small recreational watercraft. This project seeks to mitigate the negative impacts of extreme weather conditions on the harbor entrance, thereby protecting boaters, local businesses, and public/private properties that play a critical role in the local recreation/sport-fishing based economy.  
"After historic flooding devastated homes, businesses and infrastructure along Lake Ontario in 2019, New York has been leading the way to provide much-needed help to these communities," Governor Cuomo said. "Through REDI, we are not just rebuilding the shoreline's infrastructure, we are building back stronger and smarter for a more resilient future, and that's exactly what we're doing with this project in the Town of Newfane." 
"Shoreline communities along Lake Ontario have faced tremendous challenges in recent years because of climate change, but New York State continues to invest helping them comeback better, smarter and more resilient," said Lieutenant Governor Kathy Hochul. "The resiliency project at Olcott Harbor in the Town of Newfane will protect against future flooding, increase economic activity by extending the boating season, and ensure it remains a place of enjoyment for future generations."
Resiliency measures to be implemented in the project include the installation of an offshore oval, rubble-mound breakwater approximately 350 feet in length, and enlargement of the east and west piers to reduce wave action and sedimentation at the mouth and within Olcott Harbor navigation channel, preventing flooding and shoreline damage, as well as to make navigation more amenable for longer periods throughout the year.
New York State Department of Environmental Conservation Commissioner and REDI Commission Co-Chair Basil Seggos said, "New York's Resiliency and Economic Development Initiative is proof positive of the State's sustained effort to help communities build back stronger after severe weather events and high water. REDI is advancing projects to protect shoreline communities historically susceptible to flooding along Lake Ontario and the St. Lawrence River. Today marks a critical milestone in these efforts and installing this breakwater will protect the town of Newfane from floodwaters for years to come."
State Parks Commissioner Erik Kulleseid said, "I commend Governor Cuomo for his investment into resiliency projects that will continue to support shoreline communities that have been struggling with the impacts of flooding on Lake Ontario. These projects will help address a variety of issues, from protecting shorelines from erosion, to maintaining public access and use of beaches, piers and docks, all of which are vital to the local community and tourism economy of Lake Ontario."
REDI Co-Chair and Empire State Development Acting Commissioner and President & CEO-designate Eric Gertler said, "Erosion has affected all areas of the Olcott Harbor, from private properties to municipal facilities and businesses. Going forward, this new break wall will help lessen the damage from wave action, a vital step toward minimizing the risks associated with shoreline development and improving the quality of life for residents."
DASNY President and CEO Reuben McDaniel III said, "While communities across America grapple with the impacts of weather, Governor Cuomo's REDI program provides an active and targeted approach to protecting New York's economy and its citizens. Olcott Harbor is a unique natural resource, and DASNY is proud to support a project that is so important to so many New Yorkers."
Chairman of the Niagara County Legislature Rebecca Wydysh said, "The Olcott Harbor Breakwater Project not only seeks to repair the damage from Lake Ontario flooding, but offers a chance to build back better and stronger, and open opportunities to extend the navigation season longer, and thereby increase economic activity. This project is exactly why the REDI program is so important and why my colleague, Legislator John Syracuse and Newfane Supervisor Tim Horanburg worked so closely with state officials to make it happen.  The partnership between New York State and local governments on REDI projects is collaboration at its best."
Town of Newfane Supervisor Horanburg said, "We am very excited that construction has begun on the long awaited Olcott Harbor Breakwater project. On behalf of the town, I would like to thank Governor Andrew Cuomo for his tremendous support, and the REDI Commission in assisting the town in moving this project forward. The Governor's and State agencies partnership and guidance was priceless in the development of the plans and permitting of this project. The completed breakwater project will protect the harbor and allow for economic development in the Town of Newfane for decades to come."
In response to the extended pattern of flooding along the shores of Lake Ontario and the St. Lawrence River, Governor Cuomo created REDI to increase the resilience of shoreline communities and bolster economic development in the region. Five REDI Regional Planning Committees, comprised of representatives from eight counties (Niagara and Orleans, Monroe, Wayne, Cayuga and Oswego, and Jefferson and St. Lawrence) were established to identify local priorities, at-risk infrastructure and other assets, and public safety concerns. The REDI Commission allocated $20 million for homeowner assistance, $30 million to improve the resiliency of businesses, and $15 million toward a regional dredging effort that will benefit each of the eight counties in the REDI regions. The remaining $235 million has been allocated towards local and regional projects that advance and exemplify the REDI mission.
At Governor Cuomo's direction, the REDI Commission toured areas hard hit by flooding on Lake Ontario and worked with local communities to come up with a new vision for the shoreline from both a point of view of resiliency and for economic development in order to build back better and stronger for the future.
Since the creation of the Governor's REDI program in the Spring of 2019, 133 REDI funded local and regional projects are underway, including 96 projects in the design phase, 18 projects in the construction phase, and 19 projects completed.
For additional information, project profiles and REDI news, click here.