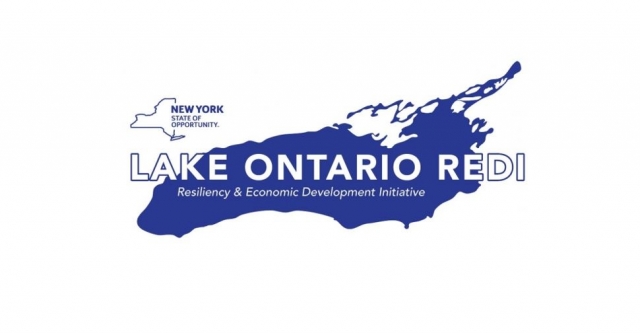 Flood Protection Measures Implemented at Wright's Landing as Part of Governor Cuomo's Resiliency and Economic Development Initiative
Boardwalk Improvements Help Ensure Access to Key Businesses and Enhance Safety
Governor Andrew M. Cuomo today announced construction has completed at Wright's Landing Marina in the City of Oswego. The $3.1 million project is part of the Governor's Lake Ontario Resiliency and Economic Development Initiative. The completed project will make the marina more flood resistant and pedestrian-friendly, which will also improve access to key businesses and enhance safety for visitors.
"The operation of and access to public marinas is vital to the economies of communities on the Lake Ontario shoreline," Governor Cuomo said.  The additions and upgrades to Wrights Landing Marina in Oswego will protect the area from future flooding, while boosting community use and bolstering the local economy. REDI projects like this help to ensure flood mitigation and safety, and that both residents and visitors are able to continue to visit and enjoy these destinations."
"New York State's continued investment in our shoreline communities is helping them build back better, smarter and more resilient," said Lieutenant Governor Kathy Hochul. "The completion of Wright's Landing Marina is another step forward in realizing the full potential of the Oswego waterfront making it more pedestrian-friendly and flood resistant protecting it for future generations and boosting economic activity."
The Wright's Landing project, which was undertaken by the City of Oswego with oversight by the Department of State, included important flood mitigation measures such as:
Raising the elevation of marina structures to compensate for higher water levels, including the boat launch, pavilion area, parking lot, and access roads. The structures were raised approximately three feet in order to reduce future flooding.

Installation of Bioretention basins to infiltrate, store, and filter the rainwater.

Repaving and restriping the access road and parking lot and install bollards along the waterfront at the lot perimeter.
In addition, work was done to install a concrete sidewalk that replaces the wooden boardwalk and improvements were made to the landscaping, which will generate additional foot traffic for local businesses. The project also included making repairs to the floating docks, which sustained flood damage in 2017 and 2019. The docks and slips were redesigned and expanded to serve more boaters.
New York State Secretary of State Rossana Rosado said, "New York is moving to build a more resilient state with infrastructure that can withstand future changes. The Wright's Landing project is the perfect example of building a project with the goal of minimizing the impacts of the Lake Ontario's water level changes with protective and smart measures. We will continue to build strong communities with comprehensive resiliency strategies and plans to institute critical long-term protective measures for today and for the future."
New York State Department of Transportation Commissioner Marie Therese Dominguez said, "Thanks to Governor Cuomo's visionary REDI initiative, we are protecting our communities along Lake Ontario and ensuring that our vital infrastructure can withstand whatever Mother Nature brings our way. The Department of Transportation was proud to join with the City of Oswego in this important project, which will improve resiliency at this popular recreation destination and will promote the continued economic vitality of this beautiful lakefront community."
New York State Office of General Services Commissioner RoAnn Destito said, "Thanks to the investments made through Governor Cuomo's Resiliency and Economic Development Initiative, the City of Oswego can now celebrate the completion of much-needed work at Wright's Landing. The flood-mitigation measure, landscaping, and infrastructure improvements at this amazing waterfront location will greatly benefit the community, local businesses, boaters, and tourists alike."
Dormitory Authority of New York State President and CEO Reuben R. McDaniel III said, "DASNY is proud to support Governor Cuomo's vision for protecting communities from flooding and to enhance Oswego County's economy.  Projects like Wright's Landing show Governor Cuomo's strong commitment to bringing state and local officials to together to protect the infrastructure and economic vitality of New York's waterfront communities."
Oswego Mayor Billy Barlow said, "Thanks to the support from Governor Andrew Cuomo and the NYS Legislature, the REDI program allowed for major improvements to Wright's Landing Marina such as resurfaced docks, new public amenities and the raising of the entire marina area three feet in elevation to eliminate the risk of flooding from high water levels in the future.  The investment by New York State through REDI has made Wright's Landing Marina a premier marina on Lake Ontario, a viable community attraction and a strong economic tool our city can leverage moving forward."
In response to the extended pattern of flooding along the shores of Lake Ontario and the St. Lawrence River, Governor Cuomo created REDI to increase the resilience of shoreline communities and bolster economic development in the region. Five REDI Regional Planning Committees, comprised of representatives from eight counties (Niagara and Orleans, Monroe, Wayne, Cayuga and Oswego, and Jefferson and St. Lawrence) were established to identify local priorities, at-risk infrastructure and other assets, and public safety concerns. The REDI Commission allocated $20 million for homeowner assistance, $30 million to improve the resiliency of businesses, and $15 million toward a regional dredging effort that will benefit each of the eight counties in the REDI regions. The remaining $235 million has been allocated towards local and regional projects that advance and exemplify the REDI mission.
At Governor Cuomo's direction, the REDI commission toured areas hard hit by flooding on Lake Ontario and worked with local communities to come up with a new vision for the shoreline from both a resiliency and economic development point of view in order to build back better and stronger for the future.
Since the creation of the Governor's REDI program in the Spring of 2019, 133 REDI funded local and regional projects are underway, including 99 projects in the design phase, 16 projects in the construction phase, and 18 projects completed.
The REDI projects complement the Governor's $10 million award to Oswego in 2016 through the Downtown Revitalization Initiative. The DOS Local Waterfront Revitalization Program is also providing over $1.5 million for additional improvements to the marina, including re-painting the lighthouse; trail connections to Breitbeck park; fire-pits; new and improved restrooms, including showers for boaters; a new fuel station; and a new boater services building.
Wright's Landing is a deep-water marina conveniently located at the intersection of the NYS Canal System and Lake Ontario. The marina features seasonal and transient boat slips, a boat launch, fish cleaning station, 24-hour rest room and showers, boat pump out, and more. For more information on the Wright's Landing REDI project and other REDI projects in the Oswego Region, please click here.