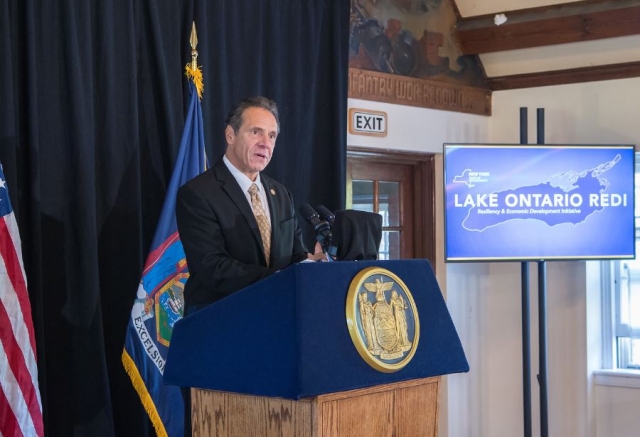 Community-Identified REDI Projects Selected after Expert Evaluation and Review   
Total $300 Million Appropriated for Shoreline Communities Includes $15 Million for Regional Dredging, $30 Million for Private Businesses, and $20 Million for Homeowner Assistance
Governor Andrew M. Cuomo today announced the state is providing $43 million for Monroe County and $41 million for Wayne County for a total of $84 million to advance 43 projects across the two regions as part of the first round of funding under the Lake Ontario Resiliency and Economic Development Initiative, or REDI. REDI was launched by Governor Cuomo in May to increase the resilience of shoreline communities and bolster economic development in the region. Today's announcement marks a major milestone in the REDI effort. Identified by the communities and evaluated by state agency experts, the projects address both immediate and long-term resiliency needs, enhance economic development, protect critical infrastructure, incorporate green, natural, or nature-based features, and will help sustainably rebuild and enhance communities along the Lake Ontario and the St. Lawrence River shorelines. Additional projects in the REDI regions will be announced shortly. 
"To respond to the challenges faced by New Yorkers on the Lake Ontario and St. Lawrence River shorelines, I called on 11 state agencies to mobilize their expertise and support local communities and help to implement actions that will create long-term sustainability," Governor Cuomo said. "Today, I am announcing REDI projects in Monroe and Wayne regions. These critical projects will realize the State's vision to sustainably protect and enhance the region's infrastructure, habitats, and local economies. Working together, New York State agency experts and local stakeholders zeroed in on 43 projects in these counties to serve as the crucial next step to helping these shoreline communities become whole again, as well as more resilient and economically vibrant." 
"Communities along Lake Ontario and the St. Lawrence River have faced tremendous challenges in recent years. That's why we have taken aggressive action to help local governments, businesses, and homeowners with state support to improve resiliency and address the impact of flooding," said Lieutenant Governor Kathy Hochul. "This targeted funding for projects in Monroe and Wayne counties will address infrastructure needs to ensure sustainability long-term. These critical efforts will help to combat devastation from extreme weather events, strengthen our economy, and enhance quality of life for residents."
Since record high water levels in 2017, New York State has committed more than $100 million to rebuild communities along the Lake Ontario shoreline that were devastated by flooding, only to again experience record high water levels and flooding in these same communities this year.
Five REDI regions, comprised of eight counties (Niagara and Orleans, Monroe, Wayne, Cayuga and Oswego, and Jefferson and St. Lawrence) were established to identify local priorities, at-risk infrastructure and other assets, and public safety concerns. The REDI Commission allocated $20 million for homeowner assistance, $30 million to improve the resiliency of businesses, and $15 million toward a regional dredging effort that will benefit each of the eight counties. The remaining balance, $235 million, has been allocated towards local and regional projects that advance and exemplify the REDI mission. 

To identify projects, over the course of three months, REDI organized 25 stakeholder and community meetings and workshops with hundreds of local residents, convened more than 15 planning committee meetings, and directed New York State agency and engineering experts to expend thousands of hours to evaluate more than 500 projects proposed by communities. The projects comprise a range of at-risk assets, including shoreline stabilization, public health and safety, critical water and wastewater infrastructure, marinas and harbors, and land loss/value, among other priorities, with an emphasis on natural or nature-based features and green infrastructure.
For each project, multi-jurisdictional permit reviews, and any associated environmental reviews, will be needed prior to any final determination to proceed. In order to build resilience, reduce the risk of future property damage, and minimize habitat impacts, the Department of Environmental Conservation (DEC) has compiled general guidelines for coastal design and development projects. These guidelines include technical data, regulatory guidance, best practices, and available resources for development along the dynamic shorelines of the Great Lakes and St. Lawrence River. This comprehensive technical and permitting information to help expedite the permitting process is available on the REDI guidance webpage. 

To further address the challenges posed by high water levels, in addition to the county-specific projects announced today, Governor Cuomo announced an eight-county $15 million Regional Dredging effort, to sustainably maintain safe navigation channels to harbors and bays along Lake Ontario and the St. Lawrence River. These channels are critical to the vitality of recreational and commercial boating, which generate an estimated over 1,000 jobs across the region.
Dredged sediments appropriate for benecial re-use may be employed in ecosystem restoration or erosion management projects, with likely benets to habitat, water quality, and beach nourishment.    

The complete list of the 43 projects in Monroe and Wayne counties is available here. Highlighted REDI projects and estimated costs in Monroe and Wayne counties include:
Monroe REDI Region 
 Click here for sample illustrative depictions of projects.  
$9,166,000 for the comprehensive Edgemere Drive Project in the town of Greece. This project combines seven separate projects submitted to the Monroe County REDI Planning Committee that together address critical transportation, stormwater and sanitary sewer infrastructure improvements with resilient, nature-based shoreline stabilization. Improving stormwater management by constructing or repairing drains, lateral pipes, and pump stations, the project will reduce the danger of sanitary sewer overflow to protect the resiliency of Lake Ontario's watershed while also protecting the health and safety of residents. Elevation of portions of road systems will ensure continuous access of that infrastructure for residents, tourists and emergency responders. Components of the project include: 
The Old Edgemere Drive Sewer Project ($2,927,000)

The Crescent Beach Road Sewers Project ($1,160,000)

The Edgemere Drive/Island Cottage to Crescent Beach Project ($850,000)

The Edgemere Drive/Cranberry Road Project ($150,000)

The Edgemere Drive Storm Sewer Project ($1,500,000)

The Long Pond Outlet/Channel Park ($1,929,000)

The Edgemere Drive Project ($650,000)
The $5,860,000 project in the Town of Parma will install a low-pressure wastewater conveyance system, including grinder pumps and a force main connected to the Monroe County Department of Environmental Services. In 2017 and 2019, floodwaters inundated septic systems creating a threat to public health and safety. 
The $2,670,000 Irondequoit Bay State Marine Park Project will address recurring flooding of the boat launch and parking area at the park. The project will raise the boat launch and install new docks, install shoreline stabilization from the boat launch west to edge of the parking lot, resurfacing the parking lot, and installing new stormwater infrastructure to convey water from the parking area to the bay. The new shoreline stabilization measures will protect the marine park from increased water levels and storm surge, protecting public safety by ensuring access to the area for emergency responders.
$1,770,000 for the St. Paul Terminus Project in both the city of Rochester and the town of Irondequoit will mitigate flooding inundating areas at the termination of St. Paul Boulevard during high water, which prevents safe access to nearby condominiums, the Monroe County Sheriff's Maritime Station, U.S. Coast Guard (USCG) Station, and several businesses. The project will modify existing, deteriorating shoreline stabilization measures, build a new stormwater pump station to convey stormwater to the adjacent Genesee River, install permanent check valves to control storm drain discharges to the river, modify the wastewater pump station to handle additional flow and be flood proof, and modify the boat ramp and storm drains at the USCG Station. Together, these resiliency measures will ensure safe access for emergency services and local seasonal businesses by protecting the Monroe County-maintained road from flooding while also preventing wastewater discharges to the river.
The $1,500,000 project to elevate Lake Road in the Town of Webster above floodwater levels will help stabilize the shoreline. This project will protect the road with stormwater swale and natural and nature-based shoreline protective measures.   
Wayne REDI Region
Click here for sample illustrative depictions of the projects.
The $14,630,000 Crescent Beach Project in the town of Huron on Sodus Bay will address multiple barrier bar breaches at Crescent Beach and Charles Point barrier bars. The degradation of the barrier bars damages the ecosystem of Sodus Bay that provides habitat for endangered species and threatens public and private property when debris, ice, and waves are unimpeded in entering the bay. Shoreline erosion makes existing septic systems vulnerable to overflow. Sodus Bay is the home of a United States Coast Guard (USCG) station and a Sheriff's Office. The project will implement nature-based solutions to stabilize the barrier bar and protect approximately 21 miles of shoreline, including public and private properties, more than 1,000 homes, and over 1,200 boat slips.
The $12,171,000 Blind Sodus Bay Project will address shoreline erosion on the bay due to the breaches of the now-degraded barrier bar. Stabilizing the bluff along Blind Sodus Bay Road with natural and nature-based materials will strengthen 3,700 feet of shoreline. This project will protect critical infrastructure and property from damage caused by ice, debris, and waves entering the bay.
The $7,400,000 Wickham Boulevard and Greig Street Project will mitigate recurring flooding in the village of Sodus Point. This project will protect public areas, including parks, beaches, and restaurants on the bayfront, as well as homes on either side of the street from flooding by stabilizing the shoreline. The project will help maintain nearby tourist attractions and encourage foot traffic to the town park and beach.  
The $590,000 White Birch Campground Wastewater Infrastructure Project will address erosion currently encroaching on a sewer line at the campground in the village of Sodus Point. The campground is directly exposed to the lake and the project would install approximately 1,000 feet of shoreline stabilization measures to protect critical wastewater infrastructure that serves the campground and an estimated 200 residences.  
The $490,000 Sodus Point Beach Project will address the loss of beachfront from erosion and the flooding of homes and adjacent streets. This beach is exposed directly to the lake and is susceptible to flooding during high water events. The project will establish a nature-based shoreline restoration of the beach with a protective dune system to stop   floodwaters during storm surges.
DEC Commissioner and REDI Co-Chair Basil Seggos said, "The quality of input and cooperation in developing this list of projects for Monroe and Wayne counties was truly exceptional and everyone involved in REDI appreciates the commitment and effort of our local partners. I'm grateful that Governor Cuomo had the foresight to bring together state and local leaders from across the region to share diverse and innovative ideas that will now be put into action and help Lake Ontario and St. Lawrence River communities become stronger and more resilient while helping to restore, rather than harm, New York's environment."
Empire State Development Acting Commissioner, President & CEO-Designate and REDI Commission Co-Chair Eric Gertler said, "Rebuilding with greater resilience is more important than ever given the new environmental reality of increasing water levels along Lake Ontario and the St. Lawrence River. The REDI Commission is working hard to ensure that communities not only recover more quickly from destructive weather events, but are stronger and better prepared for the future, unfortunate effects of climate change."
Thirty million dollars of REDI funds have been set aside for the Lake Ontario Business Resiliency Program, which will be administered by Empire State Development (ESD). Under the program, ESD will provide grants of up to $200,000 to eligible applicants who experienced direct physical flood-related damage due to the high-water levels from Lake Ontario and the St. Lawrence River in 2019.  Eligible applicant types are expected to include small businesses, not-for-profit organizations, farms, homeowners' associations and owners of rental properties. Under the Program, grants will be available to reimburse up to 50 percent of an eligible applicant's capital improvement project that is designed to strengthen their business against impacts of future flooding and make their business more resilient in nature. Each project must also receive matching support from a local government totaling at least 5 percent of state funds to be awarded under the Program. Local contributions are expected to include, but not be limited to, certain tax exemptions offered by Industrial Development Authorities, local government waivers of the costs of ordinarily due permits and fees, and direct expenditures by local governments on project-related infrastructure. To be notified when the Lake Ontario Business Resiliency Program is open for applications, please complete the recently published intake form here.
In addition to the projects announced today, the State Department of Homes and Community Renewal (HCR) is administering a 2019 Individual Homeowner Assistance Program that will provide residents in the impacted eight-county region up to $50,000 in state funding to help offset damages to their primary residences. The homeowner application period is open until Oct. 31, 2019, and more information about applying can be found here. 
HCR Commissioner RuthAnne Visnauskas said, "As communities along Lake Ontario's shoreline continue to recover from the effects of devastating floods, it's vital that we make the types of investments that will bolster infrastructure for the long-term. By improving resiliency across flood prone regions, we can ensure recovery efforts for homeowners and businesses will be sustainable."
Many of the REDI projects incorporate green infrastructure or natural or nature-based features and will be designed to have no or minimal environmental impact. Green infrastructure is a cost-effective, environmentally beneficial, and resilient approach to managing wet weather impacts. While conventional stormwater infrastructure, such as piped drainage and water treatment systems, are designed to move stormwater away from the built environment, green infrastructure reduces and treats stormwater at its source while delivering environmental and economic benefits without destroying habitat or disrupting natural features. In addition, Governor Cuomo recently announced that in next year's State of the State address, he will introduce an aggressive nation-leading habitat restoration initiative, "Revive Mother Nature." Revive Mother Nature will support critical environmental restoration efforts, like many of the REDI projects announced today, to help make communities more resilient in the face of climate change and severe weather, while also restoring and increasing fish and wildlife habitat.
Environmental Facilities Corporation Acting President, CEO & General Counsel Maureen Coleman said, "Governor Cuomo has made New York a leader in critical water infrastructure investments. Green infrastructure provides many benefits to communities in addition to alleviating flooding: filtering pollutants, recharging aquifers, rivers and streams, restoring habitat, cooling the surrounding environment, reducing air pollution, and decreasing energy usage. Governor Cuomo's announcement today is a crucial step to making communities across the Empire State resilient in the face of climate change, and helping them prepare for a sustainable future."
State Parks Commissioner Erik Kulleseid said, "The projects identified are the result of a thoughtful and positive dialogue with the community. I commend Governor Cuomo for seeking out the perspective of local leaders and following up with steps that are really going to benefit these regions."
Secretary of State Rossana Rosado said, "New York State has always been at the forefront of leveraging the strength of local and state leaders to protect and enhance its great assets. The projects announced today are a clear demonstration of Governor Cuomo's commitment to preserve the health and safety of New York's residents by protecting critical infrastructure along Lake Ontario. At the Department of State we continue to work closely with many of these communities to revitalize their waterfronts and reinforce their resiliency while also increasing the use of green infrastructure.  We know how important stabilizing the shore and investing in coastal assets like boat launches and docks are to local economies and to a way of life that is connected to the water. The Governor's call to action this summer was answered with strong project ideas, and will soon result in more resilient communities along the shore."
Office of General Services Commissioner RoAnn Destito said, "Governor Cuomo is a strong advocate for Lake Ontario communities affected by flooding. His creation of the multi-agency  REDI Commission has brought together expert government resources to find solutions and provide significant funding for projects that will strengthen resiliency and help protect New York State's  shoreline as we anticipate continued damage due to severe weather and climate change."
New York State Department of Transportation Commissioner Marie Therese Dominguez said, "When Lake Ontario and St. Lawrence River communities were suffering, Governor Cuomo took decisive action to respond to the flooding and offer funding to help fortify critical infrastructure. I've toured a number of sites since the flooding started and seen the impact on residents, businesses and infrastructure firsthand.  The State Department of Transportation stands with the impacted communities, ready to assist our state and local partners as they move toward a stronger, more sustainable future along the shoreline."
New York State Homeland Security and Emergency Services Commissioner Patrick A. Murphy said, "Despite incredible efforts by state and local partners to prepare for, and withstand, rising flood waters, they only way we can truly protect the long term health of Lake Ontario communities is by taking a holistic view of the lake and finding ways to strengthen shoreline resiliency. Thanks to the leadership of Governor Cuomo and the hard work of the REDI Commission members, we not only have a plan in place to begin on this work, but have secured the funding necessary to make these projects a reality."
Gil C. Quiniones, President and CEO, New York Power Authority, said, "The great Lake Ontario and the St. Lawrence River are vital to our state's economy. We, at NYPA, are pleased to see the Governor's investment in REDI projects in Monroe and Wayne counties that will help our shoreline communities be more resilient in this era of immense climate change."
Department of Labor Commissioner Roberta Reardon said, "The work of the REDI Commission is a great example of the whole being greater than the sum of its parts. The state, counties and municipalities needed to work together to help the shoreline communities and they did so in a very big way. I was honored to be a part of this process which represents government at its best."
DASNY Vice President Paul G. Koopman said, "DASNY is proud to support Governor Cuomo's REDI initiative. We stand ready to help address the needs of these affected communities, helping them become more resilient in the face of an ever-changing environment."
Senator Rich Funke said, "I am pleased to partner with the Governor and the DEC to deliver this critical funding to our area to promote resiliency and help prevent future devastating floods. In combination with our efforts to hold the IJC accountable in court for its inability to protect our residents, this investment forms the basis of a long-term strategy to better manage water levels and better serve lakefront communities environmentally and economically."
Senator Pamela Helming said, "The infrastructure of our lake shore communities has been devastated by Plan 2014. Today's announcement represents a massive commitment by New York State to rebuilding and preparing for the future. We must invest in resiliency and harden our infrastructure to protect local residents and small businesses as we continue the fight to repeal Plan 2014. I appreciate the leadership of the Governor, my legislative partners, and the many local officials who stepped up and fought for this much needed funding."
Senator Joseph Robach said, "I am pleased that projects in the Town of Greece, City of Rochester and Town of Hamlin were included in the Lake Ontario Resiliency and Economic Development initiative. This funding will assist our community to address critical infrastructure improvements to improve shoreline stabilization. This is step in the right direction to help protect homeowners and prevent hundreds of millions of dollars in future costs and damages."
Assembly Member Jamie Romeo said, "I want to thank Governor Cuomo for his attention to the needs of shoreline communities, and for his dedication to providing support for these municipal and infrastructure investments through the REDI initiative. Now more than ever, it is imperative that we as representatives of New York State continue to advocate for strategic and long-term planning when it comes to investments in our shoreline communities. Climate change, unpredictable weather events, and increased watershed runoff will force the issues of Lake Ontario's high levels to be a constant part of our decision-making process. I look forward to continuing to work with our partners in government on how we can better support shoreline businesses and communities through financial support, reviewing the potential for managed climate retreat policies, and better educating shorelines residents about their options for stability and financial security in the future."
Assembly Member Steve Hawley said, "Lake Ontario's unprecedented high water levels and subsequent flooding the past several years have caused a great deal of destruction to homes and businesses along the shoreline but, working with the governor and state leaders, we are implementing a package of state aid that will put us on the road to recovery. Such large financial commitments to over forty projects in our region are crucial to revitalizing our economic development, rebuilding our flood and wastewater infrastructure and returning our shoreline communities to a sense of normalcy. I will continue working with state and local leaders to see that homeowners, businesses and municipalities receive the help they need moving forward." 
Assembly Member Peter Lawrence said, "I appreciate the REDI Commission's announcement today of the allocation of funding to the Town of Greece for the comprehensive Edgemere Drive Project. I would like to thank Governor Cuomo for his partnership and actions to increase the resilience of our shoreline communities. Any measures that can be taken to mitigate the dangers caused by lakeshore flooding and bolster the surrounding infrastructure to protect the health and safety of residents remain a top priority. Today's announcement is a welcome step in implementing those measures and ensuring the well-being of our lakeshore residents. Our long-term goal still remains to repeal Plan 2014 and reinstate a plan that lowers the lake to its previous level."
Assembly Member Brian Manktelow said, "The announcement of substantial funding to mitigate the devastating damage in Sodus Point and the towns of Wolcott and Huron as a result of Plan 2014 is very welcome news. There has been so much worry about the breaches along the barrier bars and the erosion and flooding. The fact that the state is now assigning dollars to those areas in the first round of REDI allocations shows that the necessity to make these repairs is a priority for the governor and the Department of Environmental Conservation. Let's hope that the work gets under way quickly and we hear a similar announcement soon for communities in Cayuga and Oswego counties and businesses and residents along the lake."
Directed by Governor Cuomo, the REDI Commission is led by the New York State Department of Environmental Conservation (DEC) and Empire State Development. Additional participating agencies and authorities include the Dormitory Authority of the State of New York, State Office of General Services, Department of Transportation, Office of Parks, Recreation and Historic Preservation, NYS Homes and Community Renewal, Division of Homeland Security and Emergency Services and Office of Emergency Management, New York Power Authority, State Department of Labor, and the New York State Department of State.
Monroe County Executive Cheryl Dinolfo said, "In times of great challenge, we've shown just how much we can get done by working together. I thank Governor Cuomo and our legislative partners for providing this needed funding to help support the repair and resiliency of our Monroe County shoreline. It's important now more than ever that the IJC commit to better managing lake levels to ensure the damage experienced by our homeowners and businesses does not happen again."
Wayne County Board of Supervisors Chairman Steve LeRoy said, "In the wake of two severe floods in the past two years, Governor Cuomo has put together a transformative plan for the Lake Ontario region that will help defend against high water levels for generations to come. The new projects along our shoreline will better protect our communities from future flooding and help us preserve our local economies. I want to thank the Governor for his vision in creating this initiative."
Rochester Mayor Lovely Warren said, "I'm grateful to Governor Cuomo for his continued leadership in addressing climate change. Today's announcement in particular shows that the Governor is committed to helping Rochester overcome the challenges we face from rising lake levels."
Sodus Point Mayor Dave McDowell said, "Lake Ontario and St Lawrence River shoreline residents and businesses bore the brunt of rising floodwaters that left a path of destruction in their wake and entire communities underwater. Through the work of the REDI Commission and the investments announced today, Governor Cuomo is stepping up to help bail these folks out and build back stronger than ever before with the support and resources they need and deserve."
Irondequoit Town Supervisor Dave Seeley said, "We are thankful that Governor Cuomo and our state leaders are taking the necessary measures to protect our Town from the destruction of high water levels. This funding will allow our community to rebuild stronger and smarter in the face of future flooding. We cannot just pretend extreme weather events won't happen or that they will happen infrequently. In the face of that reality, we are taking bold steps today towards becoming a more resilient community."
Greece Town Supervisor Bill Reilich said, "The funding Governor Cuomo has provided for these projects will help us fundamentally change the Lake Ontario shoreline. With new coastal infrastructure forthcoming, our communities will be better protected against dangerous flooding. The Governor is partnering with local elected leaders, like myself and many others throughout the shoreline in building a foundation for economic development in our region that will last into the future."
Hamlin Town Supervisor Eric Peters said, "Our region will continue to face the prospect of high water levels, and we are very fortunate to have the backing of the Governor and the REDI commission. Thanks to the Governor's leadership and the hard work of everyone involved, families and businesses here in Hamlin and other lakeshore communities will benefit tremendously from the REDI initiative, and our towns will be more fortified moving forward."