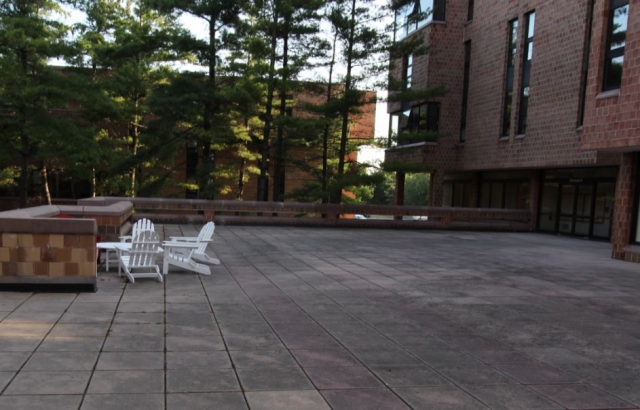 DASNY Completes Approximately $52.3 Million in Facility Renovations Across the State
Summer Construction Projects Completed at Buffalo State College, The University at Buffalo, and Alfred State College
Albany, NY – Gerrard P. Bushell, Ph.D., President & CEO of the Dormitory Authority of the State of New York (DASNY), announced today more than $7 million in renovations have been completed at Buffalo State College, the University at Buffalo, and Alfred State College. The work is part of approximately $52.3 million in upgrades, some of which are being completed over multiple phases, to State University of New York (SUNY) campuses throughout New York State completed by DASNY during the summer months – ready in time for students to begin the fall semester.
The projects are being financed through DASNY's SUNY Dormitory Facilities Program, which issues low-cost, tax-exempt bonds supported by student residence hall fees.
"High quality work in an expedited timeframe is a hallmark of how DASNY does business," said Dr. Bushell. "These improvements, done expertly and efficiently during the summer months across SUNY's campuses are providing new and returning students with more attractive living and learning facilities and making their college experience one they will never forget."
"Through our partnership with DASNY, our students are able to benefit from enhancements and updates that generate better living spaces and more efficient study environments," said SUNY Chancellor Kristina M. Johnson. "The work completed this summer also supports SUNY's energy efficiency and sustainability goals, and ultimately, is driven by the desire to support the health and wellness for all who reside on a SUNY campus."
This summer at the University at Buffalo, $4.6 million went toward modernizing two student lounges in the Wilkeson Quad of the Ellicott Complex. The study lounge features group gathering areas with plush seating, as well as privacy chairs for those who need a quiet area to focus. The coffee lounge has a stage in the middle for presentations and group meetings. Both lounges received new flooring, furniture, cabinetry, a fresh coat of paint, and modern finishes. In addition, the first phase of electrical systems updates and masonry work, including brick replacement at the complex, began.
At the Governors Complex, the roof was restored using a sustainable fluid-applied system which re-uses building elements and reduces construction waste. In addition, bathrooms were renovated in the Dewey and Roosevelt Quads. This included installation of modern fixtures and finishes in the suite bathrooms.
At Buffalo State College, $1.4 million went toward various projects, including modernizing the interior of Porter Hall. The residence's corridors received new ceilings and energy-efficient LED lighting, brightening the passageways for students. The corridor received new flooring as will all the bedrooms. Bath facilities were transformed in the Moore Complex, complete with new showers, sinks, cabinetry, exhaust fans, and fresh coats of paint. Low-flow faucets and toilets to conserve water were also installed.
At Alfred State College, nearly $1 million assisted in the replacement of the 60-foot pedestrian bridge that spans Canacadea Creek, connecting the campus to the village. Also, the nearly 60-year old aluminum curtain walls and windows in Peet and Braddon Halls were replaced with new, energy-efficient versions.
"Buffalo State is delighted to provide our students with yet another round of significant updates to our residence halls," Buffalo State President Katherine Conway-Turner said. "We thank the Dormitory Authority of the State of New York for their continued partnership as we work together each summer—often with quick timelines—to provide the best possible residential living environment for our students to thrive both socially and academically." 
"We are constantly looking for ways to enhance our students' experience here at Alfred State College through construction projects and campus upgrades," Alfred State President Dr. Skip Sullivan said. "DASNY played a key role in the completion of two such endeavors this summer and we are grateful for their support."
View Project Photos: