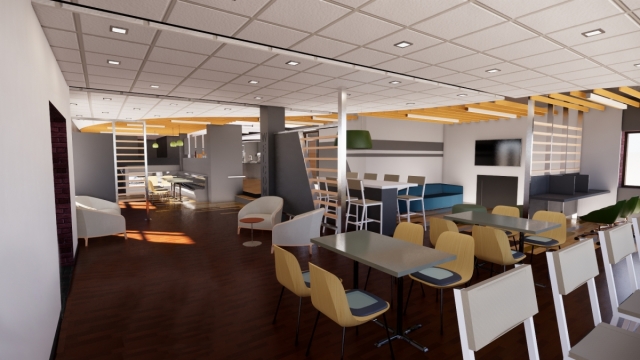 Renovations to Kent Hall Include Private Bedroom Suites and Bathrooms, Collaborative Study Areas, and a New Café
View Renderings of Kent Hall Here
Albany, NY – The Dormitory Authority of New York (DASNY) and the State University of New York (SUNY), today announced a $16.6 million renovation project at SUNY Plattsburgh. The work now underway includes a renovation of the college's Kent Hall.
The project is part of more than $70 million in capital renovation projects DASNY is beginning this summer on SUNY campuses statewide. The renovation is being financed through the SUNY Dormitory Facilities Program, which DASNY issues low-cost, tax-exempt bonds supported by student residence hall fees. Construction is expected to be completed in August 2020.
"Projects like Kent Hall are the heart of the DASNY/SUNY 70-year plus partnership," said DASNY President & CEO Dr. Gerrard P Bushell. "We are thrilled to unite with SUNY to provide optimal living and learning environments for today's students – doing our part to ensure the success of tomorrow's leaders."
"With almost 500 SUNY residence halls across the state, partnerships with DASNY are vital in continuing to expand and improve our campuses for all students," said SUNY Chancellor Kristina M. Johnson. "Working with DASNY and breaking ground on key projects, our students will be able to take advantage of upgraded living spaces, while the state will be even closer to achieving the Governor's sustainability and energy efficiency goals."
The renovation will transform Kent Hall from a traditional residence hall, which consisted of double-occupancy rooms and a shared hallway bathroom, into suite-style living areas with two double-occupancy bedrooms, a private bathroom, and a shared-living space intended to appeal to juniors and seniors. Single-occupancy bedrooms are also available. With the renovation, all student rooms in Kent Hall will be fully air-conditioned. The project also includes a renovation of all bathrooms in nearby Harrington Hall.
A new, full service café will occupy the lower level with dining areas inside and out along the scenic Saranac River. In addition, new insulation and high-performance windows will be installed to ensure optimal energy performance. Other sustainable elements include connecting a new high-efficient heating system and an upgraded ventilation system that uses energy recovery technology. These energy saving measures are expected to reduce the building's energy usage by 44 percent. 
The building's design also supports Governor Andrew M. Cuomo and SUNY Chancellor Kristina M. Johnson's energy savings goals to cut emissions and reduce energy costs, while enhancing the quality of life for students.
"The partnership with DASNY is critical, enabling us to update our residence hall facilities on a consistent, cyclical basis," said SUNY Plattsburgh President John Ettling. "The updated Kent Hall will provide students more options with updated facilities and energy efficiency." 
DASNY is also working to complete a $19 million project to renovate SUNY Plattsburgh's Whiteface Hall, which is scheduled for completion in August.
###
About DASNY: Founded in 1944, DASNY – the Dormitory Authority of the State of New York – is New York State's capital project development authority. It finances, designs, and constructs sustainable and resilient science, health and education institutions that help New York thrive. It is one of the largest issuers of tax-exempt bonds in the nation with an outstanding bond portfolio of approximately $55.2 billion as of March 31, 2019. DASNY is also a prolific public builder with a construction pipeline of more than 1,000 projects valued at more than $6.5 billion as of March 31, 2019.
About SUNY: The State University of New York (SUNY) is the largest comprehensive system of higher education in the United States, with 64 college and university campuses located within 30 miles of every home, school, and business in the state. As of Fall 2018, more than 424,000 students were enrolled in a degree program at a SUNY campus. In total, SUNY served 1.4 million students in credit-bearing courses and programs, continuing education, and community outreach programs in the 2017-18 academic year. SUNY oversees nearly a quarter of academic research in New York. Its students and faculty make significant contributions to research and discovery, contributing to a $1.6 billion research portfolio. There are 3 million SUNY alumni worldwide, and one in three New Yorkers with a college degree is a SUNY alum. To learn more about how SUNY creates opportunity, visit www.suny.edu.