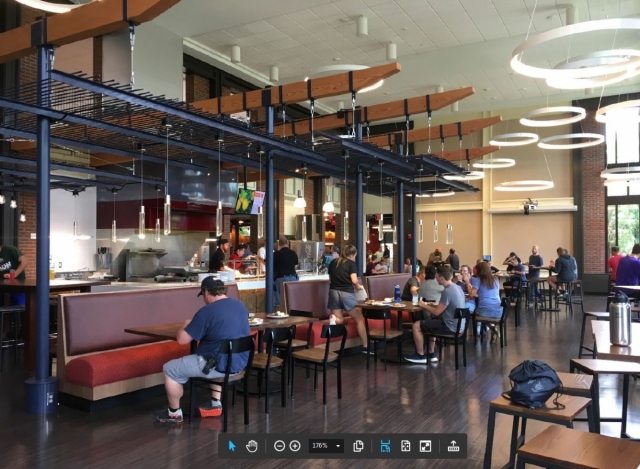 Geneseo, NY - SUNY Geneseo President Denise A. Battles and Campus Auxiliary Services (CAS) will host the grand opening and ribbon cutting ceremony of Red Jacket Dining Complex. 
The ribbon cutting will take place at 2:30 p.m. on Friday, Sept. 21. The event will take place during SUNY Geneseo's Homecoming and Family Weekend. A brief reception will be hosted at the Twisted Fork station with the dining complex.
President Battles invites project partners, as well as both the College and local communities to the ribbon-cutting ceremony. 
The 21,000-square-foot space offers nourishing food but also provides a space for community building; a place that customers feel at home and where they can connect with others.
"We are excited to have a space that brings together eating, studying and playing to the South Village at SUNY Geneseo. We are committed to building a community 'one bite at a time' together with students, faculty, staff and community members," said Jonna Anne, managing director of restaurants and cafés at CAS. CAS is a not-for-profit company dedicated to serving the SUNY Geneseo campus. 
The newly renovated building features Red Jacket, the pay-one-price dining hall located on the lower level, as well as Jack's, a retail style restaurant located on the upper level. Red Jacket food stations include Twisted Fork (chef-driven creative cuisine), American Grill (traditional favorites), Roots (plant-based offerings that accommodate vegan and vegetarian driven diets, Clean Eats (serving food free of the top 8 food allergens), soup, salad, dessert stations and more. The restaurant is open seven days a week.
The two-year renovation was led by Rochester architectural group, Edge Architecture, and local consulting firms, including Jensen/BRV, Watts Architecture and Engineering, and Kaizen Food Service Planning and Design. The Dormitory Authority of the State of New York (DASNY), and the State University Construction Fund (SUCF) provided oversight and funding for the project. Picone Construction was the general contractor for the project. SUNY Geneseo Planning and Construction group represented the College and CAS interest.
"DASNY is thrilled to help deliver a top-of-the line dining facility for the students, faculty and staff at SUNY Geneseo," said Gerrard P. Bushell, Ph.D., DASNY President & CEO. "By providing construction supervision on projects like these, we are ensuring SUNY campuses statewide can continue to provide attractive amenities and remain competitive."
Seating and dining areas feature furniture were created from Rochester companies Staach and Urban LumberJax. The College and CAS also value working with local food suppliers including Finger Lakes Coffee Roasters, Upstate Farms, and American Fruit & Vegetable Co.
View photos here.