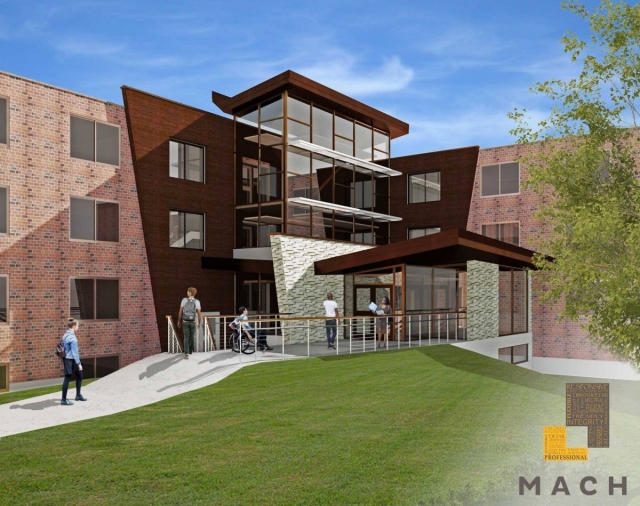 DASNY and SUNY Partner on More than $31 Million in Facility Upgrades Across the State
Albany, NY – Gerrard P. Bushell, Ph.D., President & CEO of the Dormitory Authority of the State of New York (DASNY), announced today nearly $10 million in upgrades have been completed at SUNY Buffalo State, Alfred State College, and the University at Buffalo. The work is part of approximately $31 million in upgrades to SUNY campuses throughout New York State that was completed by DASNY during the summer months – ready in time for students to begin the fall semester.
The projects were financed through DASNY's SUNY Dormitory Facilities Program, which issues low-cost, tax-exempt bonds supported by student residence hall fees.
"DASNY is proud to partner with SUNY and deliver renovations that will ensure students have a safe and comfortable environment in which to live, learn and grow," said Dr. Bushell. "By modernizing facilities, we build strong foundations for our next generation of leaders to learn and innovate, as well as provide an economic boost to the State."
At SUNY Buffalo State, $3.5 million in upgrades included the second phase of bathroom renovations in the Moore Complex Apartments, which included new showers and vanities for students. Neumann Hall received new flooring and in Tower Two, 108-bedroom windows were removed and replaced. In addition, 36 lounge windows and insulated metal panels were replaced on all four elevations on floors two through 10. On the exterior, a new entrance canopy was installed above the main entrance of the tower.
At the University at Buffalo, $4 million in improvements included a large bathroom renovation project at the Governors Complex. All 22 bathrooms and one residence director apartment were modernized, receiving new plumbing, electrical and upgraded fire protection systems. The residence director's apartment received new walls, cabinets, countertops, flooring, appliances, and a bathroom shower. Additionally, the exterior wall of the Governors Complex underwent masonry repair. At the Porter Fargo Lounge, new flooring was installed and the space received a fresh coat of paint.
At Alfred State College, $2.4 million was used to upgrade and redesign the bathrooms in the Robinson/Champlin (RC) and Getman Residence Halls, complete with new showers and vanities. New plumbing fixtures with water-saving devices were installed during this process. The redesigned bathroom layouts also included new lighting and fixtures. New electrical, fire alarm, mechanical and plumbing systems were also installed.
SUNY Chancellor Kristina M. Johnson said, "With 40 percent of state buildings under our ownership, SUNY has a significant footprint in New York State, and therefore a sizeable opportunity to build on energy sustainability. We are thankful for DASNY's partnership to retrofit our facilities to be more energy efficient, while at the same time providing a safe and healthy environment for our students."
Alfred State College President Dr. Skip Sullivan said, "This summer's quick-start renovation at RC and Getman shows how we work hard over the summer while students are gone. I know what a big impact it will make this fall when students return to find all new bathroom facilities."
Buffalo State College Vice President for Student Affairs Timothy Gordon said, "Buffalo State is pleased to provide our students with another round of important updates to our residence halls. These improvements, along with the recent renovation of Bishop Hall and the upcoming renovation of Tower 3, will be enjoyed by our students for years to come. We thank DASNY for its continued partnership as we strive together to provide Buffalo State students with a welcoming and modern home-away-from-home."
University at Buffalo Vice President for Student Life A. Scott Weber said, "At the University at Buffalo, we're committed to providing our students with the support and resources they need to excel. That includes updating and modernizing our residence halls and other facilities. The Dormitory Authority of the State of New York has been an outstanding partner in helping us to achieve those goal.
You can view photos of the work on DASNY"s Flickr page.