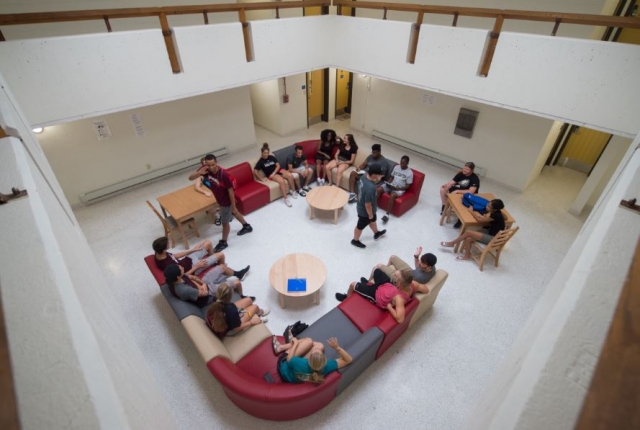 In Time for the Start of the Fall Semester, the College 
Enhances Safety Measures and Modernizes Living Spaces for Students
ALBANY, N.Y. -- Gerrard P. Bushell, Ph.D., President & CEO of the Dormitory Authority of the State of New York (DASNY), announced today the completion of a $4 million project to improve Rushton Hall at SUNY Canton. This project is part of roughly $59 million in capital renovation projects DASNY is completing on SUNY campuses statewide.
The upgrades were financed through DASNY's SUNY Dormitory Facilities Program, which issues low-cost, tax-exempt bonds supported by student residence hall fees.
Renovations to Rushton Hall included upgrades to its electrical systems, a new energy efficient hot water storage unit, as well as new sprinkler and alarm systems to increase student protections. Thirty-six student rooms and 12 bathrooms were modernized, which included new energy efficient LED lighting to create a brighter and more inviting atmosphere. Energy efficient fans were also installed as part of the upgraded heating and ventilation system.
"The improvements to Rushton Hall provide students with 21st Century residences that will enhance their learning experience," said Dr. Bushell. "DASNY is proud to partner with SUNY Canton to deliver an energy efficient facility that will provide students the environment they need to achieve success."
SUNY Chancellor Kristina M. Johnson said, "With 40 percent of state buildings under our ownership, SUNY has a significant footprint in New York State, and therefore a sizeable opportunity to build on energy sustainability. We are thankful for DASNY's partnership to retrofit our facilities to be more energy efficient, while at the same time providing a safe and healthy environment for our students."
SUNY Canton President Zvi Szafran said, "This is the third residence hall that we've been able to renovate through our partnership with DASNY. These projects allow us to continually update and upgrade the student living areas in our historic buildings, leading to an overall better learning environment and enhancing the SUNY Canton experience."
State Senator Patty Ritchie said, "This is an exciting time for SUNY Canton and its students. These upgrades to Rushton Hall will help create a more welcoming, safer environment for students, as well as will ensure the school can continue to attract the best and brightest students to the North Country. I look forward to seeing the impact this project has on both SUNY Canton and our region as a whole."
State Assemblywoman Addie Jenne said, "I am thrilled not only for SUNY Canton, but for the North Country region. By continuing to invest in our students, we are investing in our future. These improvements are a testament to our commitment to providing them with the best possible living and learning environment our area has to offer."
View project photos here.