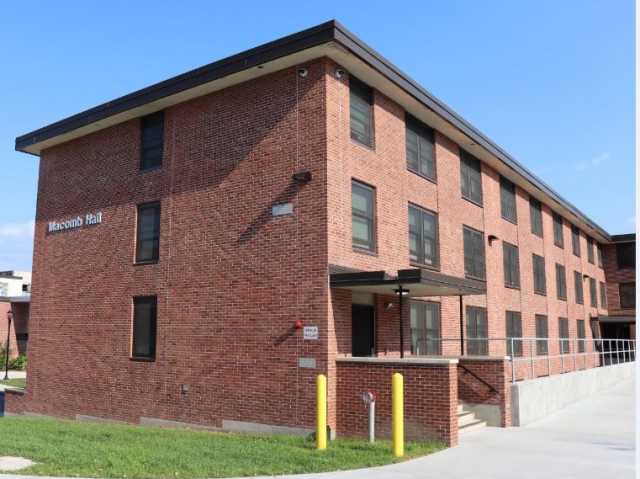 ALBANY, N.Y. -- Gerrard P. Bushell, Ph.D., DASNY President & CEO, announced today the Dormitory Authority of the State of New York (DASNY) has completed a $15 million project to improve Macomb and Mason Halls at SUNY Plattsburgh. This project is part of roughly $59 million in capital renovation projects DASNY is completing on SUNY campuses statewide.
The project was financed through DASNY's SUNY Dormitory Facilities Program, which issues low-cost tax-exempt bonds supported by student residence hall fees.
"The improvements to Macomb and Mason Halls provide students with 21st Century residences that will enhance their learning experience," said Dr. Bushell. "DASNY is proud to partner with SUNY Plattsburgh to deliver energy efficient facilities that will provide students the environment they need to achieve success."
The 48,000-square foot, 152-bed Macomb Hall received complete renovations in time for students to arrive for the fall 2018 semester. Work included the installation of a new heating and ventilation systems to improve indoor air quality, as well as upgrades for emergency response such as new fire alarm systems and additional lighting.  Bathrooms have been configured for individual use with contemporary finishes to provide increased privacy and safety. New doors, energy-efficient windows, and new roofing has been installed as well as additional masonry repairs have been completed. Originally located in the basement, updated laundry facilities on each floor will provide increased convenience for the students.
In addition, Macomb Hall will house Student Support Services and the Educational Opportunity Program on the ground floor. The area features new air conditioning as well. The hall is also equipped with a new elevator, which will provide greater accessibility throughout the building. New landscaping and parking facilities, which have been made more accessible to people with disabilities, surround the hall as well.
At Mason Hall, the second phase of its bathroom renovations have been completed. The rest of the 21,400-square foot, 197-bed residence hall was renovated in 2015. You can view project photos here.
State Senator Betty Little said, "I am thrilled for the students at SUNY Plattsburgh. These improvements will provide them the best possible living and learning environments the North Country has to offer. Here they will blossom into the leaders of tomorrow and help boost upstate New York's economy."
State Assemblyman Billy Jones said, "SUNY Plattsburgh's campus has never looked better. With these upgrades to Macomb and Mason Halls, students will be able to live and learn in the most up-to-date facilities available, giving them the tools they need to succeed."
SUNY Chancellor Kristina M. Johnson said, "With 40 percent of state buildings under our ownership, SUNY has a significant footprint in New York State, and therefore a sizeable opportunity to build on energy sustainability. We are thankful for DASNY's partnership to retrofit our facilities to be more energy efficient, while at the same time providing a safe and healthy environment for our students."
SUNY Plattsburgh President John Ettling said, "We appreciate the partnership with DASNY, which gives us the ability to invest in our facilities on a regular, timely basis. The green features inside, new landscaping outside and added kitchenettes on every floor will make Macomb Hall a special home for students."
Steve Matthews, Director of Housing and Residence Life said, "The new and improved Macomb and Mason Halls will feature more natural light, landscaping and very comfortable spaces for students. With new heating and mechanical systems, added insulation and all-LED lighting, we estimate the building will be 20 to 30 percent more energy efficient."
Earlier this spring, DASNY began a $19 million project to renovate Whiteface Hall. The project is slated for completion in June 2019.
  ###
Founded in 1944, DASNY – the Dormitory Authority of the State of New York – is New York State's capital project development authority. It finances and constructs sustainable and resilient science, health and education institutions that help New York thrive. It is one of the largest issuers of tax-exempt bonds in the nation with an outstanding bond portfolio of approximately $51.3 billion as of June 30, 2018. DASNY is also a major public builder with a construction pipeline of 932 projects valued at more than $6.4 billion as of June 30, 2018.