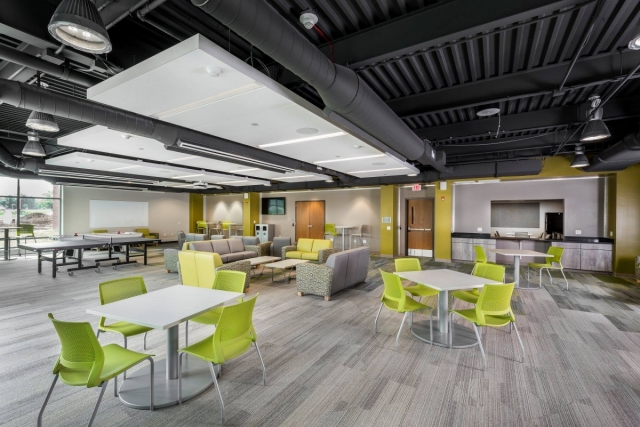 In Time for the Start of the Fall Semester, Students Receive New Smart Classroom
Design-Build Method Significantly Reduced the Project Timeline, Providing Savings Without Sacrificing Quality 
ALBANY, N.Y. -- Gerrard P. Bushell, Ph.D., President and CEO of the Dormitory Authority of the State of New York (DASNY), announced today the completion of Eagle Hall, a new $24 million residence hall at The College at Brockport, State University of New York.
The completed project includes steel construction of the new 263-bed residence hall building with modern fire-safety equipment, including full sprinkler and fire alarm systems, as well as state-of-the-art security systems and card access throughout. The living spaces in the building are constructed with the needs of today's student in mind. The spaces foster collaborative study and student learning through the incorporation of a smart classroom, multi-purpose room, and lounges and kitchens on each floor.
DASNY deployed design-build, an alternative project delivery method that DASNY may utilize on SUNY projects. Using design-build, both design and construction services are provided through a single contract to expedite project delivery and provide savings while maintaining a high level of quality.
"We are extremely pleased with how Eagle Hall progressed," said Dr. Bushell. "With design-build, we were able to execute the project within a compressed time frame, keeping costs down while maintaining a high level of quality. We look forward to executing similar projects like this one across the state."  
The project was financed through DASNY's SUNY Dormitory Facilities Program, which issues low-cost, tax-exempt bonds supported by student residence hall fees.
"I was very impressed with the efficiency of the construction process," said Heidi Macpherson, Ph.D., President of The College at Brockport. "A little over a year ago we broke ground. Now I see a state-of-the-art residence hall filled with students. Utilizing design-build allowed us to provide our students with a high quality, affordable residence hall and continue to make The College at Brockport a great place for our students to live and learn."
Located near Rochester, the building is designed and constructed to LEED-Silver standards under the U.S Green Building Council's sustainability and energy efficiency guidelines.
SUNY Chancellor Kristina M. Johnson said, "With 40 percent of state buildings under our ownership, SUNY has a significant footprint in New York State, and therefore a sizable opportunity to build on energy sustainability. We are thankful for DASNY's partnership to retrofit our facilities to be more energy efficient, while at the same time providing a safe and healthy environment for our students."
You can view the photos of Eagle Hall on DASNY's Flickr page.