The Governor's Office of Storm Recovery (GOSR)
The Governor's Office of Storm Recovery (GOSR)
New York Rising Community Reconstruction Program
The Governor's Office of Storm Recovery (GOSR)
Strengthening New York Against Powerful Storms
When Hurricane Irene plowed into upstate New York in August 2011, its heavy rain and powerful wind caused widespread flooding and power outages. In the City of Amsterdam, power outages caused critical government operations to close for several days after the storm.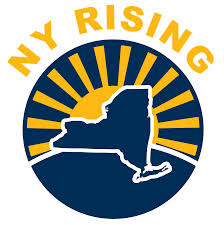 The Governor's Office of Storm Recovery (GOSR) and DASNY partnered with the city and community stakeholders to make sure that doesn't happen again. In July 2016, ground was broken for the installation of five emergency standby generators. The $1.5 million project provides emergency backup power for municipal buildings and school emergency shelters in the City and Town of Amsterdam, supports an emergency response plan developed by GOSR, the city, the town and a group of community-minded volunteers.
"This is a direct result of the local participation process Former Governor (Andrew M.) Cuomo envisioned when we established the Community Reconstruction program to set resiliency priorities at the grass roots level," said Lisa Bova-Hiatt, Former Director of GOSR. "Local, civic-minded residents are the people who best know the needs of their community."
The Amsterdam generator project was part of approximately 60 projects valued at about $166 million that GOSR and DASNY are partnering on across New York State. They were part of the New York Rising Community Reconstruction Program, which Governor Cuomo announced in April 2013 to empower storm-impacted communities throughout the state to build back better and stronger than before.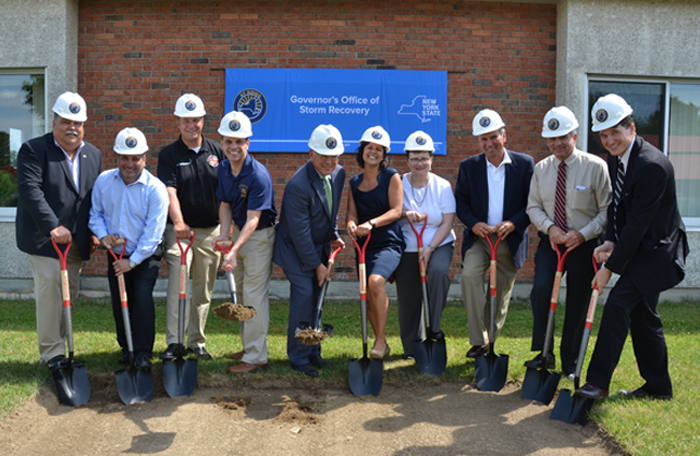 Among the projects were improvements to a fire station in the Town of Rotterdam. The fire station's capacity to help its community was strained when Hurricane Irene and Tropical Storm Lee struck one after the other in 2011. The garage bays, normally used to house fire equipment, became emergency operations centers and staging areas for the collection and distribution of essential items for flood victims.
In consultation with the community, GOSR developed a plan that is being executed by DASNY to build an emergency operations command center, triage area and emergency supply storage room, and installation of a back-up power generator. The construction on the project started in December.
Other projects included: strengthening beach heads on Staten Island, resiliency improvements at libraries across Long Island and volunteer fire departments in NYC, and dock repairs in Breezy Point, Queens.