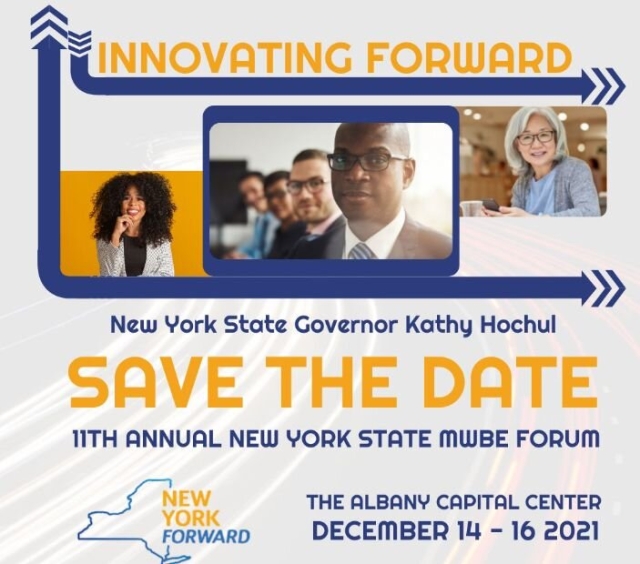 Register for the Forum Here
Governor Kathy Hochul today announced the Eleventh Annual Minority- and Women-Owned Business Enterprise Forum will be held from December 14 through December 16 at the Albany Capital Center.
"New York's diversity is its greatest strength - I am thrilled to be able to hold our annual Minority- and Women-Owned Business Enterprise Forum in person this year with virtual components that will ensure everyone wishing to attend has the ability to," Governor Hochul said. "This year's event is sure to be the best yet, with a wide range of speakers and multiple days of workshops and discussions. Small minority and women owned businesses deserve every opportunity to flourish in our state and these resources will prove to be invaluable as we work to bring our economy back from pandemic induced hardship."
This year's forum will be a dynamic, multi-day, hybrid virtual and in-person experience that will provide opportunities for MWBEs from across industries to forge new professional connections and become more competitive in an ever-changing market. For in-person attendees, proof of vaccination and masks will be required. Learn more about the forum and register here.
Workshops and panel discussions to deliver information about New York State MWBE certification and business development resources, basic government procurement training, and guidance for the MWBE community to tap into up to $1 billion in contracting opportunities with New York State. 
New York State-certified MWBEs interested in participating in the virtual forum but who may be unable to due economic hardships related to COVID-19 are encouraged to contact ESD's Division of Minority and Women's Business Development Customer Care Center at [email protected] to explore options.
Speakers will include:
Julissa Gutierrez, Chief Diversity Officer for the State of New York

Hope Knight, Acting President and CEO of Empire State Development 

Jerome A. DuVal, Executive Vice President & Executive Director, Division of Minority and Women's Business Development, Empire State Development

Chris Alexander, Executive Director of the Office of Cannabis Management

Adrienne A. Harris, Acting Superintendent of the Department of Financial Services

Doreen Harris, President and CEO of the New York State Energy Research and Development Authority

Ruth Hassell-Thompson, Special Advisor for Policy and Community Affairs of New York State Homes and Community Renewal

Reuben McDaniel, President and CEO of Dormitory Authority of the State of New York

Jeanette Moy, Acting Commissioner of the Office of General Services

Sandra Rivera, Senior Advisor to the Governor for Legislative Affairs