Diversity at DASNY is not just about meeting mandates. It's about bringing top talent, multiple perspectives, and best solutions to every project. This is why a commitment—to business enterprises owned by minorities, women, and service-disabled veterans—permeates everything we do.
DASNY is committed to providing real opportunities for MWSBE and SDVOB companies to compete.
Diversity in Finance.
We set and meet Minority-, Women-Business Enterprise (MWBE) and Service- Disabled Veteran-Owned Business (SDVOB) participation goals for public clients.
Diversity in Construction and Professional Services.
We require all contractors, consultants and providers to use qualified MWBE and SDVOB firms. Governor Andrew M. Cuomo's statewide construction-related goal for MWBE participation is 30%.
Diversity in Procurement.
Our Resource Acquisition team serves as our watchdog for MWBE issues. It approves every MWBE utilization plan, reviews actual MWBE participation on every project, and reaches out to prime contractors who need more MWBE firms to meet their goals.
By weaving MWBEs and SDVOBs into all we do, we broaden opportunity for all New Yorkers—and bring an unprecedented level of excellence to your next project.
Medgar Evers College in Brooklyn, a CUNY set-aside campus, realized a 67 percent MBE and SBE participation rate for its $19.6 million library expansion and welcome center project.
Meet Our Diversity & Inclusion Team for MWSBEs and SDVOBs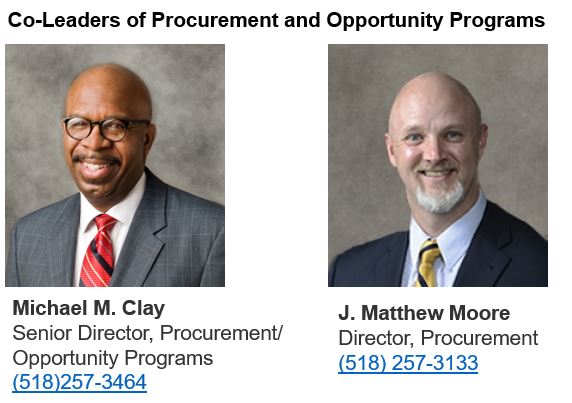 Programs for Minority- and Women-Owned Businesses & Service-Disabled Veterans